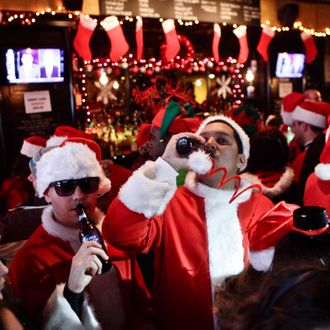 Photo: Kena Betancur/Getty Images
SantaCon, the "convention" that turns the most wonderful time of the year into a piss parade characterized "by sexism, drunkenness, xenophobia, homophobia and enough incidents of public vomiting and urination to fill an infinite dunk tank," is bidding farewell to its East Village roots and heading to Brooklyn this year. Batten down the hatches!
Bushwick Daily reports that SantaCon will be held on December 13 (also known as the 25th birthday of Our Holiness Taylor Swift) from 10 a.m. to 2 p.m. in Bushwick. Several Bushwick bars are unsurprisingly unenthusiastic about the threat of their establishments being inundated by blacked-out bros dressed in fuzzy red coats screaming for co-eds to sit on their laps.
As one bar owner put it, it's going to be "Vomit Town USA."
East Village bars, which have long fought to ban the daytime bar crawl and will be spared this year's vomit puddles, must have made Santa's Nice List this year.