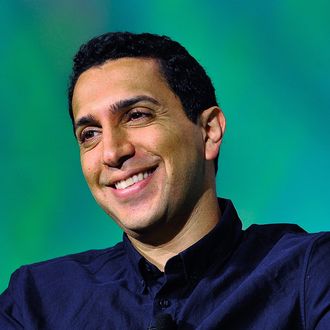 Photo: Steve Jennings/Getty Images
Sean Rad, the 27-year-old co-founder and CEO of Tinder, an app that gamifies Youngs swapping STIs with other Youngs, has been ousted from the company, according to Forbes. As if that in itself isn't embarrassing, IAC execs told Rad of his firing right before he was supposed to take the stage at Forbes's 30 Under 30 conference, and while he was in the middle of the interview for the magazine's cover. Ouch.
The ouster comes shortly after Justin Mateen, Rad's co-founder and best friend, resigned from his post as CMO in September following a sexual-harassment lawsuit filed by a former girlfriend and Tinder employee named Whitney Wolfe.
The two are still besties, though, and even have matching jet-black "military-grade $115,000 Mercedes G Class wagons," though Rad recently totaled his. Now he should have plenty of time on his hands to shop for a new car.