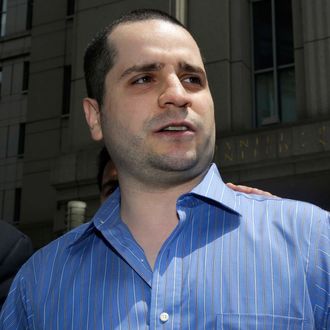 Gilberto Valle.
Photo: Seth Wenig/AP/Corbis
Gilberto Valle, the former NYPD officer better known in the tabloids as the Cannibal Cop, had been freed from prison this summer after a judge overturned his conviction for conspiring to kidnap, kill, and eat multiple women, including his then-wife. But he still faced sentencing for a misdemeanor conviction for illegally using the NYPD's database to obtain information on the women, and today a judge sentenced him to time served.
Valle, who'd already spent over a year in prison, also received one year of probation and must continue to receive mental-health treatment. He's also barred from contact with any of the women involved with the case.
Prosecutors, meanwhile, say they're appealing Judge Paul Gardephe's decision to overturn the jury verdict that found him guilty of conspiracy.