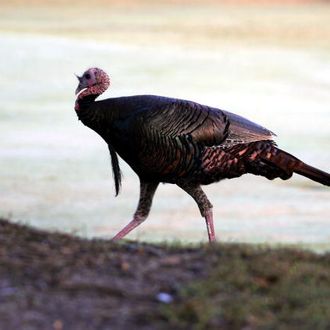 LAKE BUENA VISTA, FL - NOVEMBER 07: A male Wild Turkey walks on the nineth hole during the second round at the Childrens Miracle Network Classic at Disney Palm on November 7, 2008 in Lake Buena Vista, Florida.
Photo: Photo by Marc Serota/Getty Images
A flock of wild turkeys has officially had its execution called off after plans to transport 100 of them to a farm upstate have been confirmed. The Staten Island birds will be moved to a private farm, whose very generous owner had to install fencing, shelter, and water for the birds to save them from their fate. The state plans to start moving the birds in early December, and they'll be home in time for Christmas.