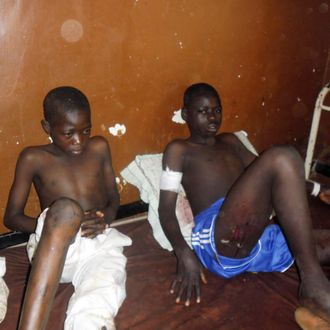 Photo: Adamu Adamu/AP/Corbis
A suicide bomber disguised as a student entered a government boarding school in Potiskum, Nigeria, on Monday and detonated a bomb, killing 47 people and injuring 79. A police spokesman said they believe Boko Haram, the militant Islamic group, is responsible for the attack.
According to CNN, students were gathered outside the principal's office for daily announcements when the explosion occurred. Law enforcement are still trying to determine exactly how many of the dead and wounded were students.
This isn't the first time Boko Haram has attacked students. In February, they killed at least 40 students when they opened fire at another government boarding school; they're also responsible for the spate of schoolgirl kidnappings ongoing across Nigeria.