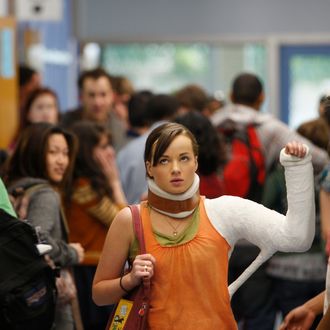 Photo: ELISABETH CAREN/?ELISABETH CAREN 2010 ALL RIGHTS RESERVED
When campus police at the University of Waterloo received several tips about a "suspicious person" who had approached two women on campus and blocked their paths while attempting to talk to them, they were worried they had a dangerous criminal on their hands. That turned out not to be the case, unless you classify lonely virgins as dangerous criminals.
Student newspaper the University of Waterloo Imprint reports that after police identified the individual and spoke with him, they determined he was simply "socially awkward":
UW Police Services (UWPS) confirmed that the two incidents involving a tall, Asian, male suspect who approached two female students on campus were cases of an individual being "socially awkward."

"We certainly took all the concerns of the people who sent in any information very seriously," Anderson said. "We're extremely pleased so many people responded to us seeking information on this."
Apparently colleges need to start offering Flirting 101.