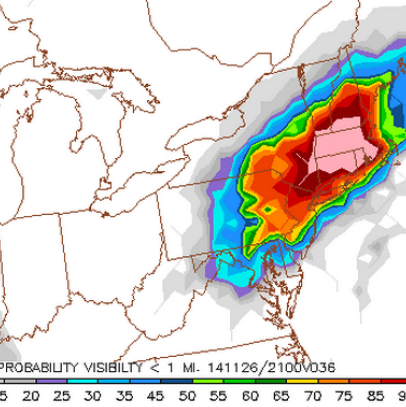 If you haven't already left the city for Thanksgiving and are planning to do so and do not have access to a helicopter or some other form of special rich-person travel, GET OUT NOW. It's expected to get windy and rainy late Tuesday night, with snow falling heavy and fast on Wednesday morning, effectively crippling the holiday commute all along the Northeast corridor.
"As it turns out, this storm is taking an ideal track for heavy snow in New York City," writes Slate meteorologist Eric Holthaus. Great, cool, super! It will likely be an all-day snow event, he continues, starting around dawn on Wednesday and continuing into early Thursday morning. Manhattan could see snow accumulation anywhere from four inches to a foot.
"It is going to be all snow for a good chunk of the afternoon and early evening, not ending until midnight," predicted the National Weather Service's David Stark.
In Boston, snowfall "could reach two inches per hour at the peak," and Philly can expect "sloppy, wet snow that could cling to trees wires and obscure road signs." Things should warm up a bit on Thanksgiving itself, but it won't last — Black Friday temperatures across the northeast are forecast somewhere in the 20s.
American and Delta are waiving re-booking fees for those interested in rescheduling Wednesday flights to "certain cities" for Thursday or Friday, but that won't work for people who don't want to eat their Thanksgiving meal out of a Tupperware. Meanwhile, an AAA spokesperson advised drivers to "pack their patience." Cute?
Happy Thanksgiving!