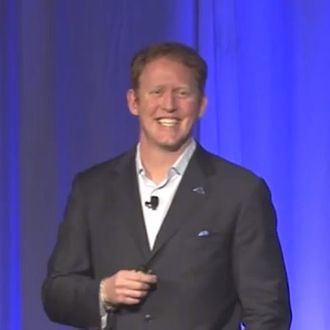 For the past three years, the man who killed Osama bin Laden has managed to remain anonymous, despite being portrayed in three Oscar-nominated movies and several books. Now Fox News plans to reveal the Navy SEAL's identity in an exclusive interview that airs next week — or rather, planned before they were scooped by the Daily Mail. The U.K. tabloid claims that the man who put three bullets in the terrorist leader's head is Robert O'Neill, a retired SEAL who now works as a motivational speaker. The 38-year-old's father appeared to confirm his identity to the paper, saying, "People are asking if we are worried that ISIS will come and get us because Rob is going public. I say I'll paint a big target on my front door and say come and get us."
Gawker reports that O'Neill's name actually surfaced two days ago on the special-forces website SOFREP and in an anonymous post from a Gawker commenter. According to the Mail, O'Neill is from Butte, Montana, and he has been involved in more than 400 combat missions. He is said to be one of the most decorated SEALs in history, with "two Silver Stars, four Bronze Stars with Valor, a Joint Service Commendation Medal with Valor, three Presidential Unit citations, and two Navy/Marine Corps Commendations with Valor."

Fox News still gets to reveal why O'Neill is going public — if indeed he is bin Laden's killer — but it may have something to do with the Navy denying him health care and other benefits when he left the service four years short of a 20-year career. Last year Esquire published a profile of "The Shooter," in which he complained about how he's been treated by the military since taking out Osama.
The Pentagon has gone after fellow SEAL Team Six member Matt Bissonnette, whose memoir No Easy Day focused on the raid, and it's clearly not happy about another team member's plan to go public. After Bissonnette appeared on this week's 60 Minutes and Fox News started advertising the interview, which will air November 11 and 12, the head of Naval Warfare Special Command issued a letter warning special-operations forces to stay out of the spotlight.

"At Naval Special Warfare's core is the SEAL ethos," the letter read. "A critical tenant of our ethos is 'I do not advertise the nature of my work, nor seek recognition for my actions.' Our ethos is a life-long commitment and obligation, both in and out of the service. Violators of our ethos are neither teammates in good standing, nor teammates who represent Naval Special Warfare."
Either the military did not have a problem with O'Neill giving a speech last year about the operation that inspired the film Captain Phillips, or they haven't been scouring YouTube for SEALs turned motivational speakers.