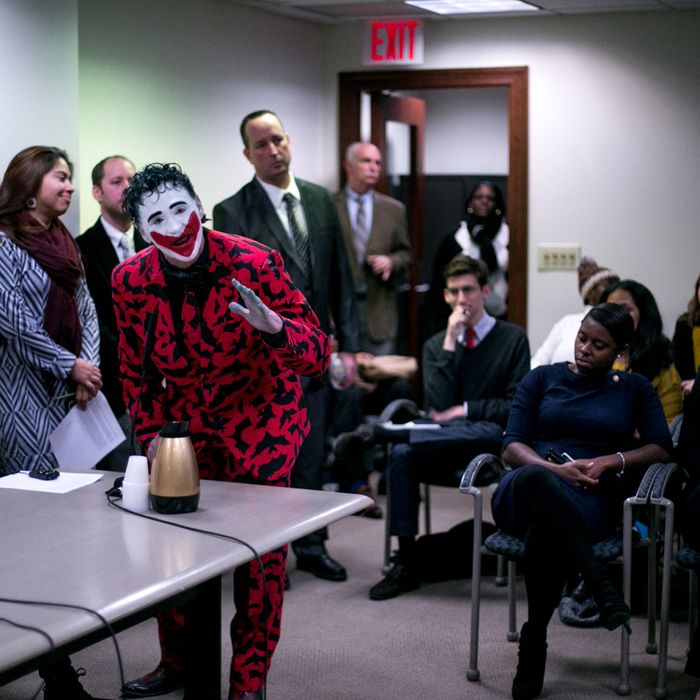 Photo: William Alatriste for the New York City Council
Sure, a New York City Council Consumer Affairs Committee hearing sounds boring — unless Batman is there to testify, that is. On Wednesday, the Caped Crusader descended upon City Council — along with nemesis the Joker — to speak against the proposed plan to force Times Square characters to pay $170 for a two-year license to nag tourists for tips. The real people inside the costumes would also need to be finger-printed, and registered sex offenders would be barred from the Midtown character biz. The proposal was introduced in September, following incidents involving everyone from Spider-Man to Elmo.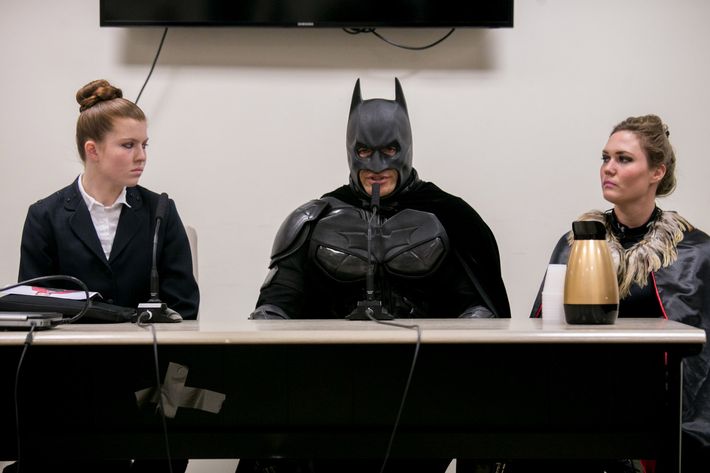 Batman and the Joker aside, most of the Times Square characters who testified did so out of costume, intending to show the committee that they were just "well-meaning workers trying to earn a living," reports the Times. One of the bigger concerns among those who spoke is fear that finger-printing and licensing could put some undocumented workers at risk of being deported, especially those providing for families.
The Times Square Alliance also testified, bringing lots of damning evidence to highlight the menance that is rogue Buzz Lightyears and their ilk. The bill, introduced by Councilman Andy King (D-Bronx), right now has 22 co-sponsors, though some councilmembers said they didn't think licenses would solve any real issues. In other words, the cartoon characters will still be amassed on 42nd Street.