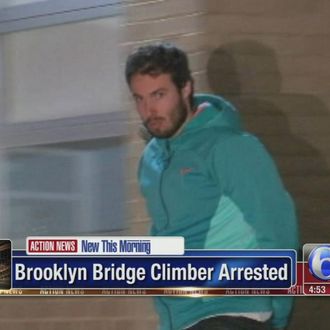 It seems that the city is going to try to make an example out of Yonathan Souid, the 23-year-old Frenchman who was arrested for climbing the Brooklyn Bridge in order to take photos on Sunday afternoon. ​"This defendant's foolish and unlawful conduct is a breach of security and a danger to himself and others. It will not be tolerated. This is not a game and we will be seeking jail time," Brooklyn district attorney Ken Thompson said of Souid, who is now the fourth tourist (that we know of) to scale the bridge this year.
Following his Monday arraignment, Souid was released on $7,500 bail. He is facing several charges — including second-degree reckless endangerment and third-degree criminal trespassing — and could spend up to a year in jail if convicted.
His American supporters insist that Souid's stunt was just a big misunderstanding. "There were no signs in French saying you can't climb the bridge," said defense lawyer James Medows. "He acted like a foolish tourist." Meanwhile, 24-year-old Jeff Sternfeld explained that Souid, who "comes from a small Jewish community near La Rochelle," isn't well-acquainted with the rules of the big city. "He has a strong passion for photography, so he thought, 'I want to get a better view.' He's not a daredevil."
Sternfeld added: "There's a cultural barrier​ — ​t​o him and people in France​. They said, 'They put him in jail for this?'" Hopefully, somebody has already told Souid that playing up the "French" angle too much isn't likely to help his cause.