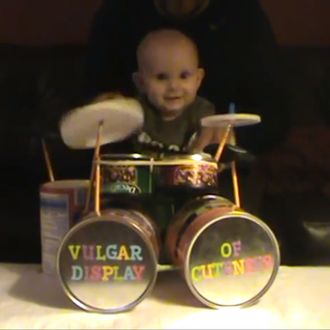 The winter chill has come to stay as days fall behind us like a trail of dominoes. There may have been more depressing news about government surveillance technology being used to spy on Americans, a beautiful mammal may have fucked itself to death, and another shutdown may be looming, but there is a bright side to the last seven days: babies. Here are eight actually good things that happened this week.
1. A baby discovered he's a better drummer than most teens in garage bands. Eight-month-old Wyatt may have had a little help from his daddy, but we won't hold it against him.
2. The Eric Frein look-alike used donations from the internet to buy a new car. James Tully, the man whom Pennsylvania authorities kept stopping while he was walking to work because he looked like accused cop killer Eric Frein, has taken the donations raised for him online and purchased a used car. Now he won't have to walk five miles each way.
3. A baby elephant successfully fought off an attack from 14 lions. The 1-year-old elephant escaped the attack unscathed and was reunited with his mother.
4. A federal detention center in Miami held a father-daughter dance for inmates and their kids. The dance allowed incarcerated fathers to ditch their khaki jumpsuits and spend an afternoon dancing with their daughters in fancy clothes. "It's part of the bureau's broader reentry program to reach out to the children and families of offenders and strengthen their bonds," says the Herald.
5. Introducing the Incredible Dog-Shrinking Machine. The video is from May, but it's perfect for any season.
6. Trick-or-treaters returned an accidental treat. When two sisters were sifting through their Halloween candy, they came across a diamond ring among the piles of Reese's and M&Ms. Instead of keeping it to play princess party, they showed their dad, who helped them locate the rightful owner by hanging signs in the neighborhood. Their neighbor Jennifer Vasek cried with relief when the girls returned her wedding band to her.
7. The world's first glow-in-the-dark bike path opened in Holland this week. Inspired by Starry Night, it's absolutely gorgeous.
8. A little girl decided Santa deserves some company. Three-year-old Gracie Lynn was eating at a Bob Evans restaurant in Indiana on Wednesday when she noticed a man who looked remarkably like Santa sitting in a booth eating lunch by himself. Gracie asked her mom if she could keep Santa company, and her mom said yes. Luckily, we got this adorable picture out of the deal.