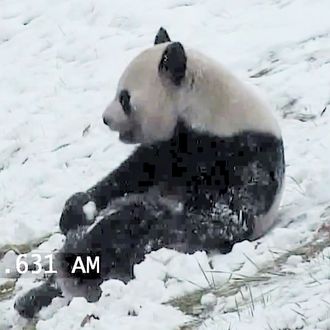 I think we can all agree that the best thing about this week is that it eventually has to end. In case that doesn't inspire you to reclaim the positive attitude you abandoned way back in college, this might help: Here are seven truly good things that happened this week.
1. A Starbucks barista rescued a cab driver and his passenger after a manhole explosion in Manhattan. Bernard Vickers heard the explosion and sprinted out to the cab after a manhole exploded beneath it. After realizing the cab's occupants couldn't get the doors open, Vickers pulled the driver through the window and helped the passenger escape through the sunroof. Both were treated for minor injuries. Guess you could say Vickers is a … venti hero.
2. A giant panda at the Toronto Zoo tried his hand at "bear-bogganing." Da Mao could bearly contain his glee when it started to snow this week, and cameras caught him frolicking about in his own winter wonderland.
3. A 100-year-old woman got to see the ocean for the first time. The assisted-living center where Ruby Holt lives and an organization that grants wishes to the elderly banded together to give her an all-expenses-paid trip to the Gulf of Mexico so she could see the ocean for the first time.
4. A "miracle kitten" was rescued from a car engine. The stray cat had climbed into the hood of a couple's car to stay warm when the temperatures dropped into the 20s. Luckily, with the help of AAA, a local auto shop, and the ASPCA, they were able to free the kitten and named her "Miracle." She's now being cared for at the ASPCA, where she'll eventually be put up for adoption.
5. Strangers in China worked together to save a woman who had gotten pinned beneath a car. The woman was pinned when her moped was side-swiped by the car. But through the strength of a bunch of strangers, they were able to save her life. She's currently in good condition recovering at a local hospital.
6. Canadians helped finish the U.S. national anthem after the singer's mike failed. At the opening of a Toronto Maple Leafs game, singer Michelle Madeira's mike cut out in the middle of "The Star-Spangled Banner." Luckily, the crowd joined in to help her finish.
7. PYGMY MARMOSET. A really tiny and really adorable marmoset discovered her love for toothbrushes this week when her owner gave her a massage using one. Someday I hope we all can reach this level of Zen.