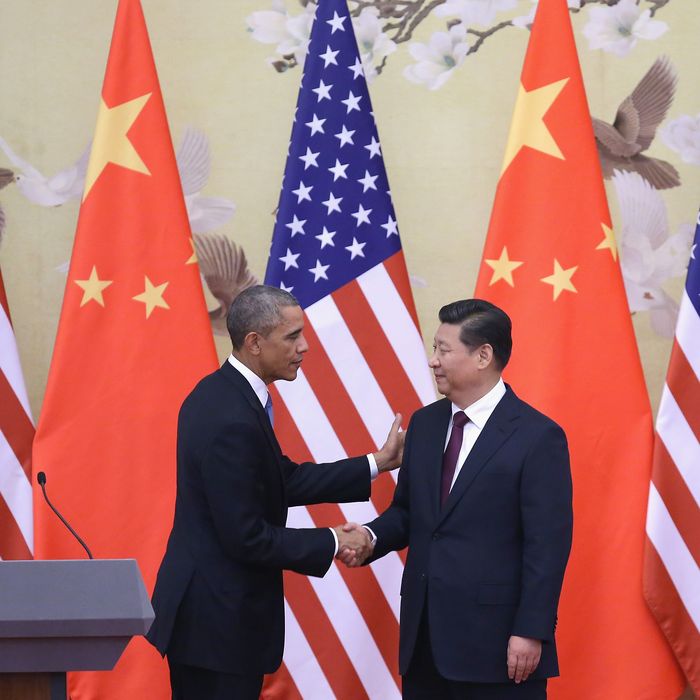 Photo: Feng Li/2014 Getty Images
A week after learning that climate-change denier Senator Jim Inhofe is likely to become the new head of the Senate's energy and environment committee, those concerned about the environment got a much-needed bit of good news. On Tuesday night, the United States and China revealed that, after months of secret meetings, they have reached an ambitious deal to cut carbon emissions. "This is a major milestone in the U.S.-China relationship," President Obama said, with Chinese President Xi Jinping by his side. "It shows what's possible when we work together on an urgent global challenge."
The agreement, which was announced on the last day of Obama's trip to China, calls for the United States to reduce carbon emissions by 26 percent to 28 percent by 2025, compared to 2005 levels. That's a drastic increase from Obama's previous pledge of a 17 percent reduction by 2020.
China's end of the deal is even more impressive. The country said it will reach peak carbon emissions by 2030, or possibly sooner, which is the first time it's committed to stop emissions from growing. Xi said China will accomplish this by shifting 20 percent of its total energy production to clean energy sources. According to the White House, to meet the target China will have to "deploy an additional 800-1,000 gigawatts of nuclear, wind, solar and other zero emission generation capacity by 2030 — more than all the coal-fired power plants that exist in China today and close to total current electricity generation capacity in the United States."
The agreement is a major breakthrough in the global effort to address climate change, as the U.S. and China are the world's top two carbon polluters. The United Nations Climate Change Conference will be held in Paris next year, with the aim of reaching a worldwide treaty on climate change. It's unlikely that many smaller countries would agree to mandatory emissions cuts if the world's biggest polluters refused to take action.
Congress does not need to ratify the agreement, but Republican lawmakers have already signaled that they will try to make it difficult for the U.S. to meet those targets. "Our economy can't take the president's ideological War on Coal that will increase the squeeze on middle-class families and struggling miners," said future Senate majority leader Mitch McConnell. "This unrealistic plan that the president would dump on his successor would ensure higher utility rates and far fewer jobs."