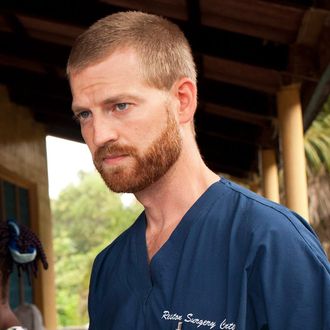 Photo: Courtesy of Samaritan's Purse
Six of the Americans who contracted and recovered from Ebola gathered on the Today show Wednesday morning, where most of them met for the very first time. The emotional get-together, just a day before Thanksgiving, also gave them a chance to express their gratitude to the first survivor, Kent Brantly, who donated plasma to many of them.
"He's a selfless man and he's like our angel and gave us a second chance at life, that's how I feel," said Nina Pham, a nurse who contracted the virus while treating Dallas Ebola patient Thomas Eric Duncan.
"It's just amazing that you gave so much to all of us," added freelance journalist Ashoka Mukpo. "Thank you."
Nancy Writebol, the other American evacuated from Liberia, gave plasma to banjo-playing NYC Ebola doc Craig Spencer, who did not take part in the segment. Host Matt Lauer said that even those survivors who were hesitant to appear on the show were very eager to meet their fellow survivors. 
None of the six had regrets about their service work, but they did say they are particularly thankful this Thanksgiving — including for the "little things — like when I'm cooking, smelling the food as I cook, doing laundry, feeling the warmth and the smell of laundry right out of the dryer," said nurse Amber Vinson.