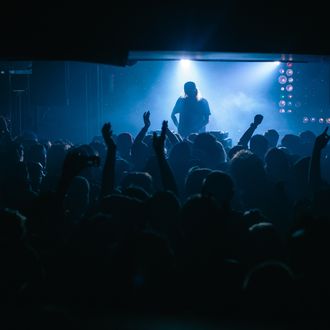 Photo courtesy of Jono Bernstein
New Yorkers frequently rhapsodize about the slow disappearing act of resonant NYC music venues: punk-hangout CBGBs, the iconic Roseland Ballroom, and most recently the indie-rock shrines Death by Audio and Glasslands. But the glass is hardly half-empty. That's why we think it's important to recognize that countless venues are continuing to fight the good fight of nurturing the city's robust music scene. Hennessy has also built its name by supporting visionaries—musicians such as Nas—who set themselves up for greatness simply by chasing their dreams. With that in mind, here are 10 aurally minded spots that warrant a lingering visit, with cognac in hand.
Baby's All Right
The award for coolest indie-rock club to open this year (okay, it technically opened late last year…) goes to this eclectically stylish Williamsburg bar-lounge. In addition to becoming a game-changer for local acts, it's become an attractive pit stop for any band swinging through town.

Bowery Ballroom
Playing this lush room is a brag-worthy right of passage for any up-and-coming band. Hotly anticipated appearances have included everyone the once-upstart Yeah Yeah Yeahs and punk icon Patti Smith alike. This place is frequently sold-out for a reason.

The Studio at Webster Hall
This baby venue ensconced in the basement of the larger Webster Hall (also owned by the visionary bookers behind the Bowery Ballroom) often gets eclipsed by the marquee names on the top floor. But The Studio is a great spot for new acts to litmus-test their tunes. Just ask Odd Future, which made their New York debut here.

Output
Run by a brain trust of dance-music insiders, Output is an educated knee-jerk to EDM culture. Here, that reaction manifests itself as smartly curated DJ lineups that range from insidery (Com Truise) to mass appeal (James Murphy).

Cake Shop
With CBGBs, this Lower East Side spot (sorta) fills the sweat-and-grime club void in Manhattan. Upstairs is innocent enough: a sweets and record shop with a DIY feel. But downstairs is where the drinks flow, boasting an assortment of bands that span art and garage rock.

Babycastles
This art gallery/performance space run by DIY arcade game creators (we'll pause while you digest that…) doesn't always play host to bands. But when it does, it's a can't-miss experience that's very oddball New York. Their recent claim to fame: an exhibition about NYC's underground featuring Harlem hip-hoppers Raking.

Rough Trade
The storied English indie label pulled out all the stops when it debuted Stateside. Their Williamsburg outpost includes a bona-fide venue for in-store performances—some ticketed, others free, most essential. All genres welcome.

Saint Vitus
Leap-frogging over some local mainstays to become Brooklyn's best metal bar, Saint Vitus has also grown into an unparalleled venue. Though it's a nexus of the local cool-kid metal scene, the space has also hosted louder offerings such as a secret Nirvana reunion.

Muchmore's
This small gallery-club is billed as "a home for experimental arts and music," but it's more like a stellar starting point for finding your next favorite local band. Nothing is too off-kilter here, and that's a great thing.

Jazz Standard
Not a jazz fan? This willfully swanky spot could change your mind. In addition to an emphasis on nurturing future stars, it's also a comfy locale to savor a cocktail while taking in a chilled-out real-time soundtrack often provided by its de-facto house-band, the lively Mingus Orchestra.
Cashmere Cat at Baby's All Right: photo by Jono Bernstein.