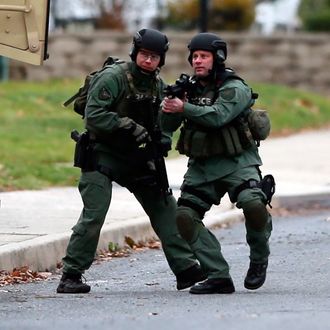 Photo: Matt Rourke/AP/Corbis
And now for some horrible news from our half of the world: A manhunt is on in Pennsylvania for a man suspected of killing six family members at various locations in Montgomery County. A law-enforcement official told CNN that they believe the gunman killed his ex-wife just before 4 a.m. on Monday morning in Harleysville before killing other family members in Lansdale and Souderton. At a press conference this afternoon, police identified the suspect as 35-year-old Bradley William Stone of Pennsburg. "Stone should be considered armed and dangerous," said Montgomery County District Attorney Risa Vetri Ferman. "Anyone with information about Stone's whereabouts is asked to call 9-1-1 immediately. Do not approach him."
School districts were put on lockdown and residents were told to take shelter where they were this morning as police surrounded a home in Souderton. Stone was believed to be barricaded inside and a loud bang was heard at 11:45 a.m. A short time later, an unidentified person was rushed from the scene in an ambulance, according to Reuters.
Now police have converged on a home in Pennsburg, which is about 30 miles northwest of Philadelphia. The Associated Press reports that police are trying to get Stone to surrender. "Bradley, this is the police department!" an officer was heard saying over a megaphone. "Come to the front door with your hands up. You're under arrest."
This post will be updated as more information becomes available.