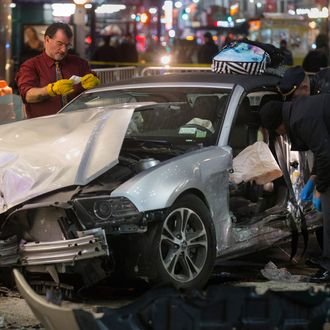 11 Dec 2014, New York City, New York State, USA — Police search a car at the scene of a vehicular accident on 34th Street, Thursday, Dec. 11, 2014, in New York. Six people were hurt when the car jumped a curb in midtown Manhattan and struck a group of people around 10 p.m. A fire department spokesman says the injured were taken to Bellevue hospital with serious but non-life threatening injuries.
Photo: John Minchillo/AP/Corbis
Holiday shopping was brutally interrupted near Herald Square Wednesday night when seven people were hurt after a Ford Mustang crashed into a Forever 21 store at 34th Street between Fifth and Sixth Avenues. CBS reports that the driver, who had a blood-alcohol level twice the legal limit and two crack pipes in her car, rear-ended a parked vehicle, and tried to flee the scene. She apparently reversed against traffic and rammed into more cars until the out-of-control Mustang hopped the curb and plowed into the store window, sending "literally five bodies flying in air," said one witness. Seven victims are being treated at Bellevue, as well as the car's passenger and the driver, who's in custody and awaiting charges.