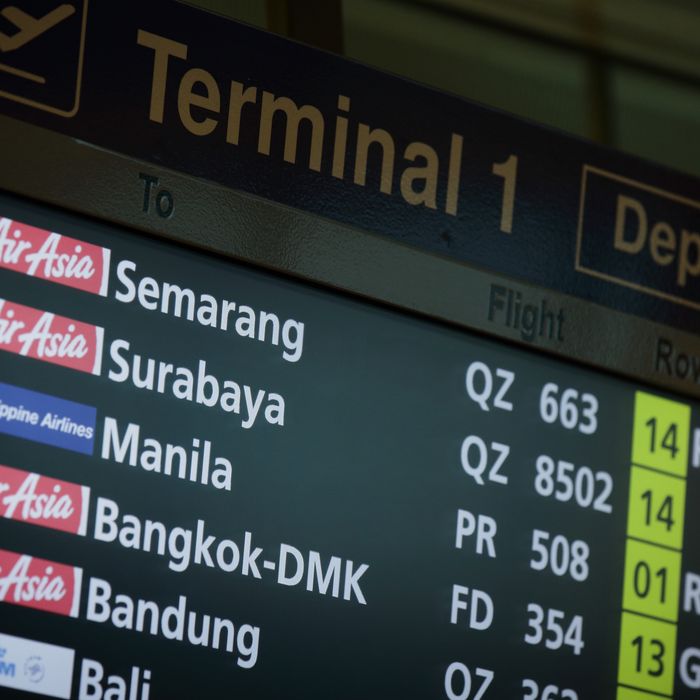 The Malaysia-based airline AirAsia has confirmed that one of its planes has gone missing over the Java Sea, which separates the Indonesian islands of Java and Borneo. Flight QZ8501 — an Airbus A320-200 carrying 155 passengers and seven crew members — left Surabaya, Indonesia, for Singapore early Sunday morning, disappearing about 42 minutes after takeoff.
According to the Singapore authorities and Facebook post by AirAsia, air-traffic control lost track of the plane at 6:24 a.m. Jakarta time, just after the pilot requested a "deviation" from the regular route because of the weather. More specifically, the Associated Press reports, the pilot "asked to avoid clouds by turning left and going higher to 34,000 feet (10,360 meters)." Djoko Murjatmodjo, an official from Indonesia's transportation ministry, told reporters that contact with QZ8501 was lost slightly earlier, at 6:16 a.m. Djoko also said that the plane had not sent any distress signals, "Therefore we cannot assume anything yet."
AirAsia said QZ8501's passenger list, which included 16 children and one baby, was mostly made up of Indonesians. There were also three South Koreans, a Malaysian, and a British national onboard the plane.
AirAsia CEO Tony Fernandes tweeted these messages Sunday morning:
The New York Times reports that "Indonesia dispatched at least three warships and five aircraft to search for the plane, Malaysia deployed three boats and three aircraft, and Singapore said it sent a C-130 plane to assist in the search. Australia also offered to lend ships and aircraft to the effort." The search and rescue effort is reportedly concentrated near Indonesia's Belitung island. After 12 hours, searchers suspended the operation for the night without having found any sign of wreckage.