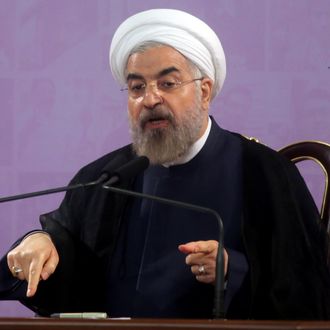 Photo: ATTA KENARE/AFP/Getty Images
An American citizen imprisoned by the Iranian government has begun a hunger strike, his family says, in hopes that the U.S. government will negotiate a release for him during continuing nuclear talks. Former Marine and dual Iranian citizen Amir Hekmati dictated a letter to the president asking for help securing his release. 
"We are truly devastated by this news but know that he is struggling and losing hope for a resolution to his case," his sister told the AP in an email.
Hekmati was arrested in 2011, charged with spying for the U.S. government, and subsequently sentenced to death. His death sentence was overturned on appeal, and the espionage conviction was abandoned in favor of a charge of "cooperating with hostile governments." American officials have denied that Hekmati is a spy, and his family insists that he was in Iran visiting grandmothers. He's serving ten years, and his letter reads: 
Every day, I wake hoping that there is news of my release. Every night, I go to sleep disappointed to mark another day that I am still behind these prison walls, away from my family, friends and meaningful human contact. Away from my father who is gravely ill. There is no end in sight.
The Arizona-born Hekmati's father, Ali, has terminal brain cancer. "I ask that you make it clear that my case is unrelated and should be resolved independent of your talks," the letter continues, addressing the president directly.
A November deadline for a nuclear deal with Iran came and went, without any permanent agreement. International leaders agreed to extend the deadline until July 1 to hammer out the final details. President Obama has reached out personally to Iranian leaders, but it's not clear whether Hekmati's release is being discussed alongside sanctions and the nuclear program.