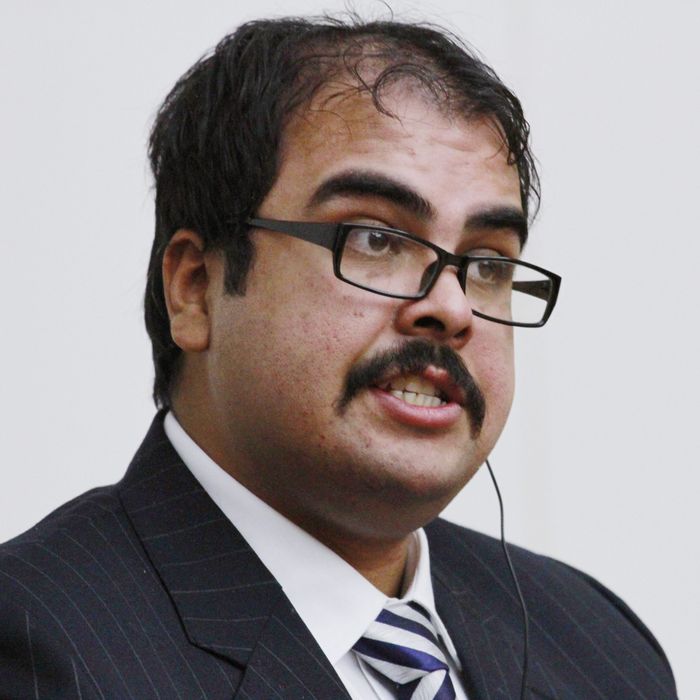 Photo: Kim Kwang Hyon/? Corbis. All Rights Reserved.
A 29-year-old El Pasoan named Arturo Pierre Martinez called a press conference in Pyongyang, North Korea, on Sunday, at which he blasted the United States for human-rights abuses and announced his intention to seek asylum in Venezuela. And, miracle of miracles, Martinez somehow entered North Korea illegally and managed to not be arrested and sentenced to a lifetime of harsh labor.
Martinez evidently found his way to the isolated country by crossing the Yalu river from neighboring China, just two days after the U.S. had finished rescuing two Americans trapped in the nation for "anti-state crimes." He's also apparently the man stopped by South Korean authorities from swimming across the Han River earlier this year — after which he was hospitalized in the U.S. for a mental-health breakdown.
His remarks at the conference suggested that Martinez was pardoned by North Korean authorities once he reached the country's shores. (U.S. officials say they're ready to provide consular help if something goes wrong, but they're probably not too pleased that they've got another citizen in Pyongyang just after they finally managed to free the remaining trapped ones.)
At the press conference, Martinez did what everyone loves to do: He started railing against America, citing torture, police brutality, shootings of unarmed men in Ferguson, and the like. According to the New York Times, his rant also included talk of dangerous U.F.O.s – probably adding to his mother's concern that Martinez is bipolar and would probably be better off back home under his family's care.
Of course, Martinez failed to mention that the reason he knows about all these terrible occurrences under U.S. rule is because the country is, after all, a democracy — surely imperfect, but infinitely more transparent than North Korea, or his ultimate destination, Venezuela. The greatest mystery, perhaps, is why he had to go all the way to North Korea to air his grievances. Venezuela is much closer to home, and its beleaguered leader would've been all-too-happy to play host to similar such allegations on South American soil.