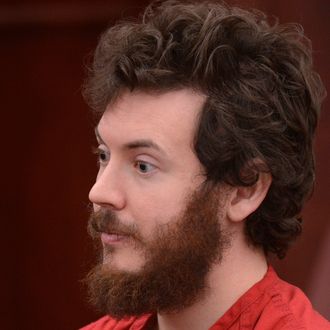 One month before jury selection is set to begin in the trial of James Holmes, who opened fire in a crowded movie theater, his parents have written a letter asking that he be spared from the death penalty. Holmes pleaded not guilty by reason of insanity to charges related to the Aurora, Colorado, shooting, which left 12 people dead and 58 others wounded. In a letter to the Denver Post published Friday, Robert and Arlene Holmes say they "do not know how many victims of the theater shooting would like to see our son killed," but they have seen online comments comparing him to a monster. "He is not a monster," they write. "He is a human being gripped by a severe mental illness."
Holmes's parents explain that they have not spoken to the media over the past two years, aside from a brief statement on the day of the shooting, because they feel "the focus should be on the injured and their healing." They start their letter by expressing sympathy for the victims, saying:
As the parents of James Holmes, we have spent every moment for more than two years thinking about those who were injured, and the families and friends of the deceased who were killed, in the theater shooting in Aurora. We are always praying for everyone in Aurora. We wish that July 20, 2012, never happened.
The Holmeses note that James was diagnosed with a "serious mental illness" last year, but prior to the shooting "he never harmed anyone and he had no criminal history." They say they "believe the death penalty is morally wrong," especially when applied to the mentally ill, and think it would be best for everyone involved if he was institutionalized, or sentenced to life in prison through a plea deal:
We understand that if our son is found not guilty by reason of insanity, he could go to an institution that provides treatment for the mentally ill for the remainder of his life. This result would prevent any future harm to him and others.

We realize treatment in an institution would be best for our son. We love our son, we have always loved him, and we do not want him to be executed. We also decry the need for a trial. A lengthy trial requires everyone to relive those horrible moments in time, causing additional trauma.

In the criminal justice system, the prosecution and defense can agree to a sentence of life in prison, without parole, in exchange for a guilty plea. If that happened, our son would be in prison the rest of his life, but no one would have to relive those horrible events at a trial the media has permission to televise.
Experts say the central question in the trial will be whether Holmes had a mental disorder that prevented him from telling right from wrong at the time of the shooting.
Earlier this month, 9,000 summonses — the most ever for a Colorado criminal case — were sent to potential jurors. Victims' family members contacted by the Denver Post on Thursday declined to comment on the letter, but one questioned why it was issued so close to jury selection, which is scheduled to begin on January 20.