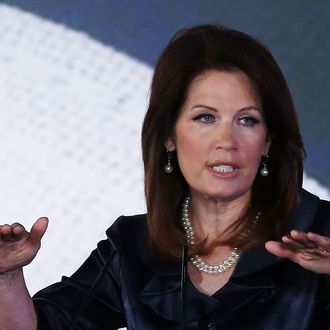 Photo: Mark Wilson/Getty Images
When most people attend the White House Christmas party, they show up on time, make pleasant small talk, eat delicious appetizers, and maybe drink too much wine, then use Instagram to humblebrag to all their friends that they were invited. But not Michele Bachmann!
The outgoing Minnesota representative used a chunk of her time at the party to advise President Obama on which country he should bomb next. "I turned to the president and I said, something to the effect of, 'Mr. President, you need to bomb the Iranian nuclear facilities, because if you don't, Iran will have a nuclear weapon on your watch and the course of world history will change,'" Bachmann told the Washington Free Beacon.
Obama reportedly gave a "condescending smile" and replied, "Well, Michele, it's just not that easy." He then presumably told his staff to never again invite such a party pooper to a festive holiday gathering.