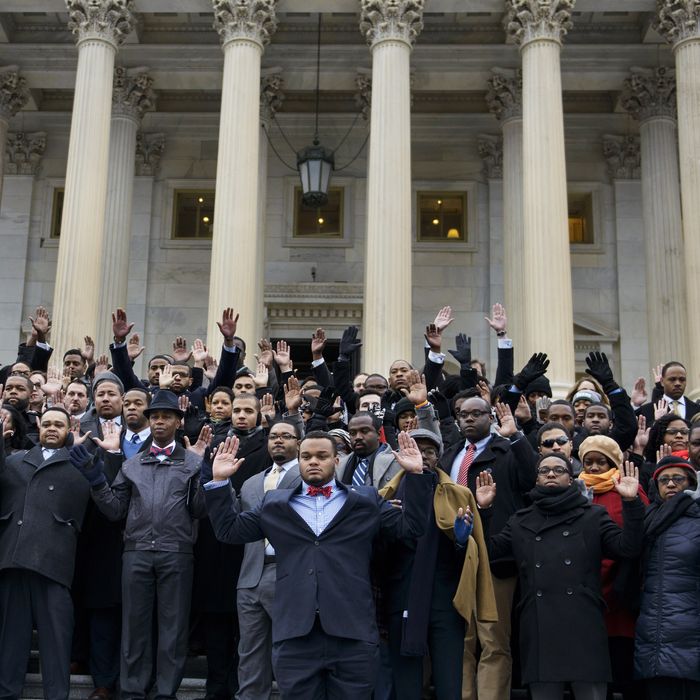 African-American Congressional staff and others hold their hands up during a walk-out outside the House of Representatives on Capitol Hill on December 11, 2014 in Washington, DC. Congressional staff members and others stood outside the Capitol to protest the Eric Garner and Mike Brown grand jury decisions which did not bring charges against police.
Photo: Brendan Smialowski/AFP/Getty Images
More than 150 black congressional staffers staged a walkout Thursday afternoon, silently posing on the steps of the House of Representatives in the iconic "Hands up, don't shoot" gesture that Ferguson police shooting victim Michael Brown was reportedly making when he was killed. The walkout was meant to protest the recent grand jury decisions not to indict Brown's killer or the NYPD officer who killed Staten Island resident Eric Garner in July by performing an illegal chokehold.
According to the Daily Beast:
Senate Chaplain Dr. Barry Black led the crowd in prayer, accompanied by dozens of Congressional staff and members of Congress, including civil-rights leader Rep. John Lewis. They were gathered there, Black said, to be a "voice for the voiceless."
Staffers reportedly also considered staging a die-in or a rally, but "organizers decided more militant tactics could have made the gathering less inclusive, and opted for a more moderate approach."