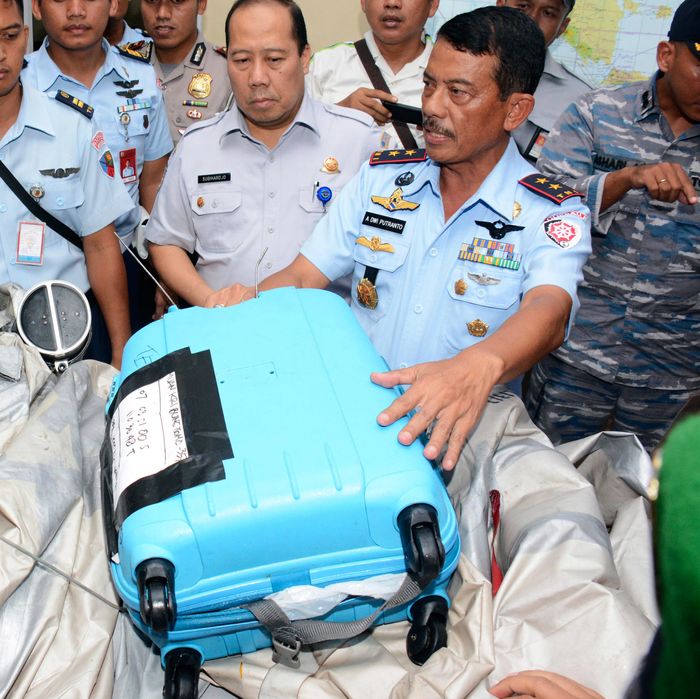 Photo: Dewi Nurcahyani/Corbis
Three days after AirAsia Flight 8501 lost contact halfway through a two-hour flight between Surabaya, Indonesia, and Singapore, rescuers spotted suitcases, aircraft debris, and bodies in the Karimata Strait off the coast of Borneo. The wreckage was found about 66 miles southeast of the plane's last known location, and Indonesian officials confirmed that it's from Flight 8501. Lt. Tri Wibowo, co-pilot of an Indonesian Air Force Hercules C130, said his team saw a plane-shaped shadow on the seabed and dozens of bodies floating in the water. "We thought that the passengers were still alive and waved at us for help. But when we approached closer [we saw] they were already dead," Tri told the Indonesian newspaper Kompas.
The plane was carrying 162 people, and local media is reporting that an Indonesian warship has recovered 40 bodies. The Indonesian television station TvOne came under fire for showing corpses in the water and search teams descending from a helicopter to retrieve them. The waiting room where family members were waiting in Juanda International Airport is equipped with six wide-screen TVs airing live news feeds, according to the Washington Post. After seeing the news footage, the families became hysterical, and one man collapsed and was taken away on a stretcher.
A female AirAsia officer shouted at the TV network, saying, "Is it possible for you not to show a picture of the dead? Please do not show a picture of a dead body … That's crazy." TvOne apologize and blurred the images in subsequent broadcasts.
The jet disappeared without issuing a distress signal four minutes after the pilot asked to raise the plane to avoid threatening weather. The plane's black boxes have yet to be retrieved, and many nations, including the U.S. and China, have sent ships and planes to help with the recovery effort. Searchers are racing against the clock, as rough weather is expected in the area on Friday.