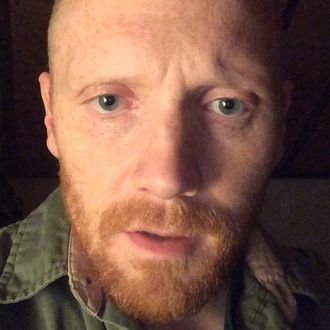 Photo: Montgomery County District Attorney's Office
It looks like the second Pennsylvania manhunt in recent months has come to an end, as the body of Bradley William Stone has reportedly been found in the woods near his Pennsburg home. Police have been searching for the 35-year-old former Marine since Monday morning, when his ex-wife, 33-year-old Nicole Hill Stone, and five members of her family were found dead in three Montgomery County homes. Sources told NBC Philadelphia that it appears Stone killed himself, and a video he recorded on a cell phone was found near his body.
Stone is a veteran of the Iraq War, and he received an honorable discharge after serving in the Marines and Marine Reserves from 2002 to 2011. According to court documents, he suffered from post-traumatic stress disorder and had three DUI arrests. He was on probation for one conviction.

The victims of Monday's shootings include Nicole Hill Stone's mother, grandmother, sister, brother-in-law, and 14-year-old niece. Her 17-year-old nephew was shot in the head and is in "very serious" condition.
The couple had been fighting over custody of their two daughters, who are 5 and 7. Stone was spotted taking the screaming children from their mother's apartment just before 5 a.m. on Monday, but they were later found unharmed with a neighbor. "They've been fighting for years, real bad," said another neighbor, Michele Brewster. "He's been tormenting her. She's gone to the police, and she has told everybody, 'He's going to kill me."' The girls are now in protective custody, along with Stone's current wife and infant.