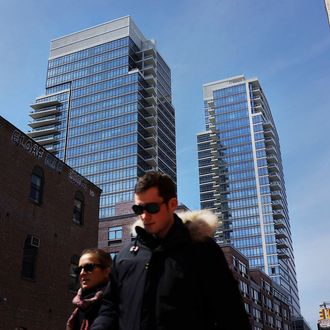 Williamsburgh.
Photo: Spencer Platt/2013 Getty Images
Brooklyn real estate is more expensive than ever, and according to one new study that looked at 475 counties around the country, the borough now also has the dubious distinction of being the U.S.'s least affordable housing market.
Of the 475 counties analyzed by RealtyTrac through October, 98 areas weren't as affordable compared with the average level for the period starting in January 2000, the Irvine, California-based data company said in a report today. Brooklyn, New York, where a resident would need to devote 98 percent of the median income to afford the payment on a median-priced home of $615,000, was the least-affordable market, followed by San Francisco and Manhattan.
The study's calculations used the median household income required to make the monthly payments on a median-priced home from 2000 through October. Brooklyn, by the way, was also among the 12 percent of counties studied in which the median home price is higher now than at the peak of the 2005 to 2008 property bubble.