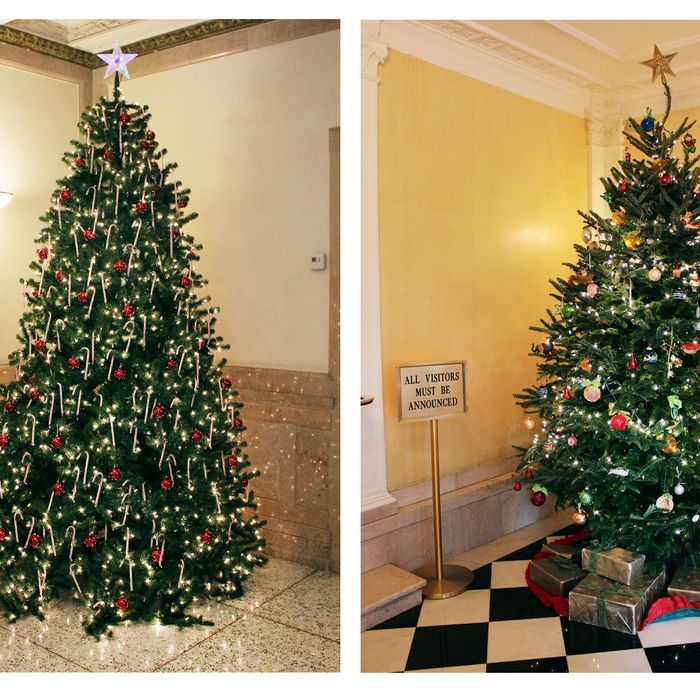 One day between the end of Thanksgiving break and mid-December, New Yorkers who dwell in larger, ritzier buildings come home from work or school to find a fully decorated tree in the lobby next to the elevator. This occasion means the arrival of all good things: winter break, Santa, presents. Some building lobbies host an annual tree-decorating party, complete with Christmas cookies and neighbors who actually talk to each other.
Trees tend to vary a bit by neighborhood. On the West Side, the Hanukkah-Christmas hybrid is popular: a traditional tree strung with white lights and decorated solely with blue and silver ornaments. On the East Side, traditional trees reign. Downtown, decorations are a bit glitzier and tinsel is back.
An informal survey of 50 New York doormen shows a rather even split between fake and real trees. Officially, a permit from the Fire Department is required to use a real tree and the lobby must have 24-hour security in case said tree catches on fire. Most doormen are either unaware of or unconcerned by the regulation. They'd much rather discuss how real a fake tree looks (it's been sprayed with a pine scent!) or how beautiful the real tree is (best on the lot!).
Decorating the tree is often an honor reserved for the most senior of doormen. Luis Barbosa has been working at 600 West End Avenue for the past 26 years. The building's 13-foot fake tree has 200 branches and takes 27 hours to adorn. Barbosa is very proud of the tree and loves seeing kids run wide-eyed into the lobby on the day it appears.
But what about the cleanup when the holidays are over? Of that, Barbosa says, "Honestly, I do wish Santa would take the tree down on his way out."