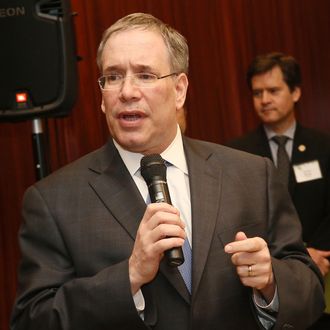 Photo: Astrid Stawiarz/2013 Getty Images
Even after a grand jury decided not to indict NYPD Officer Daniel Pantaleo in the death of Eric Garner, sparking nationwide protests, the case promised to drag on for years thanks to a federal civil rights investigation, internal NYPD probe, and civil suit from Garner's family. Now the city is considering an unusual maneuver that would allow it to resolve at least one part of the pending legal action. Scott Stringer, the city comptroller, tells the New York Times that he wants to settle with the Garner family before the case ends up in court.
In October, the Garner family filed a notice of claim saying they intend to sue the city, the NYPD, and the officers involved in the incident, for wrongful death, assault, battery, and various forms of negligence, among other complaints. The claim says they will seek $75 million in damages.
While the comptroller's office sometimes resolves minor claims against the city, lawsuits over issues like wrongful death and wrongful imprisonment are traditionally handled by the city's Law Department. The agency's 700 lawyers may spend years fighting such claims in court, with the comptrollers office approving or rejecting any settlement they reach.
Stringer says he hopes to save the city millions — and bring "closure and security to those who have been wronged" — by getting involved in negotiations before a long legal battle. "We came here not to kick the can down the road, not to sit back and let the Law Department litigate, and I'll sign what's ever put in front of me," Stringer said. "We have an opportunity to make the system better, so why not do it?"
The comptroller's office recently reached settlements with a man wrongfully imprisoned for 23 years and the family of an inmate who died at Rikers Island without the help of the Law Department. The move could be controversial, especially because it cuts the de Blasio administration out of the process, but so far the major players appear to be onboard. A Law Department spokesman told the Times:
The comptroller has the authority to settle claims against the city before a lawsuit is filed. We trust that he will exercise that authority wisely. As always, the Law Department is available to consult with the comptroller in connection with any settlement of this matter.
As for the Garner family, their lawyer, Jonathan C. Moore, said they want to see reforms at the NYPD, but they're willing to talk. "If Scott Stringer wants to sit down and talk about trying to resolve the Garner case, I would be remiss in not accepting that invitation," said Moore.
This post has been updated to clarify the comptroller's role in resolving civil claims.