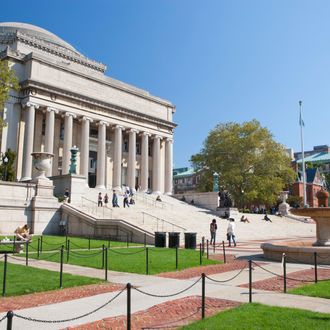 Photo: Andria Patino/Corbis
As you may have heard, the lack of criminal charges for the police officers who killed Mike Brown and Eric Garner has left many people disturbed and outraged by the American legal system. Among them: Columbia Law School students, some of whom are apparently so unnerved that they're unable to focus on their studies. With that in mind, the law school's interim dean, Robert Scott, is allowing students who feel "sufficiently impaired due to the effects of [recent events]" to delay taking their final exams.
"The grand juries' determinations to return non-indictments in the Michael Brown and Eric Garner cases have shaken the faith of some in the integrity of the grand jury system and in the law more generally. For some law students, particularly, though not only, students of color, this chain of events is all the more profound as it threatens to undermine a sense that the law is a fundamental pillar of society designed to protect fairness, due process and equality," wrote Scott in an email announcing his decision. "The law school has a policy and set of procedures for students who experience trauma during exam period. In accordance with these procedures and policy, students who feel that their performance on examinations will be sufficiently impaired due to the effects of these recent events may petition Dean Alice Rigas to have an examination rescheduled." 
Additionally, Scott said that counselors and faculty members will hold special sessions to discuss the implications of the grand juries' decisions. While some will see Columbia's actions as coddling, there is some context for this. Over the last week or so, several students of color have expressed disappointment in the school's less-than-sensitive approach to the issues raised by Brown and Garner's deaths.
For example, in a series of tweets documented by Above the Law, one student wrote, "We had a 'Forum on Ferguson' the other day. Students made it clear they wanted all members of the faculty to be invited. But that's not what happened … Only a couple of black faculty members were invited, and they were made to sit in the audience while white faculty went up to the podium and addressed the crowd." She also claimed that a professor recently used the word "Negro" during a discussion about race, while another specifically discouraged black students from participating in protests because "[studying] … is how they'll truly make a difference at a time like this."
Unsurprisingly, some students don't think it's fair for their classmates to postpone their tests. As one told the New York Post, "I understand how friends and family and acquaintances of those [victims'] families would need a lot of time to heal. But this decision seems like a cop-out to me. I feel like it's because there are some people who would rather go out and protest in the streets than study this week." But, a Latino student countered in the New York Times, "The word 'trauma' is sort of being misunderstood. It's not a trauma that somebody has if they've been exposed to the war. It's not being able to focus, it's worrying about your family members. It's worrying about your future as a lawyer. It's an existential worry. Then having to apply the very law that's being used to oppress us."