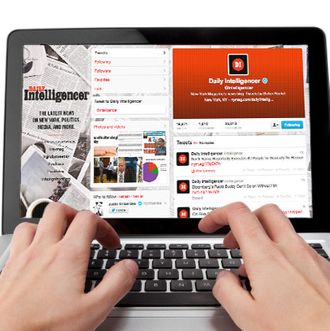 Welcome back to the New York Magazine Competition. On alternate Mondays, we lay out a challenge and offer a sample responses. Enter in the comments section, or on Twitter with the hashtag we've provided, and the editors will select a winner. Criteria are highly subjective, but heavily retweeted and favorited posts will have an advantage. The prize is a year's subscription to New York in print or a two-year subscription to the iPad edition (winner's choice). Full rules are here.
COMPETITION NO. 38: NEW PROVERBS FOR A NEW YEAR: 
Please offer a pithy saying for our time. 
For example:
Neither a Sharpton nor a Rudy be.

Tweet once, but email twice.

What Would Colbert Do?

If your selfie is nude, choose wisely your dude.          
Enter on Twitter with the hashtag #2015proverbs, or in the comments thread below, by January 7.

RESULTS OF COMPETITION NO. 37, "CHRISTMAS EXPOSÉS," in which you were asked for the tabloid approach to a familiar holiday carol or theme. 

HONORABLE MENTION TO:
SUN LIES TO 8-YEAR-OLD: Claims Santa exists.
—intrepidrider
"It's not so much that he sees you. 
He watches you sleep." A Former Elf Tells All.
—@DanStabb 
Santa: Anti-Semite?
—RealityCzech
Prancer: "I Always Wanted to Be a Dancer." 
—@DannyGroner 
SLEIGH SHOCKER: BLITZEN REQUESTS CHANUKAH OFF. "I was born a Blitzenstein." 
— @debfreedman1
NO MAN! Snowman caught impersonating local parson; thousands of marriages 
feared invalid. 
—@TheStepdaddy 
Scrooge Found Dead; Bloody Crutch Nearby
—chris.kaiser
Grandma killed in hit-and-run DUI by reindeer-led sleigh; de Blasio renews call to ban carriages.
—@MorganCEM 
North Pole Hacking Scandal: You'll Never Guess Who's Naughty, Nice.
—RegisMayhem
Bells on Bobtails Banned After Neighbors File Noise Complaint
—benji
Frosty, Snow Miser Among Season's Worst Beach Bods
—@kcenicola 
SCROOGE TO POOR: DROP DEAD
—jhartarl
8 Brought Up on Hazing Charges After Special-Needs Reindeer Goes to Authorities
—@thestewradio
Woman Seduces Santa, Extorts Deed to Platinum Mine
—@SarahEWheels
AND THE WINNER IS: 
Ralphie Parker: "I'm the NRA."
—@RustyShackleford