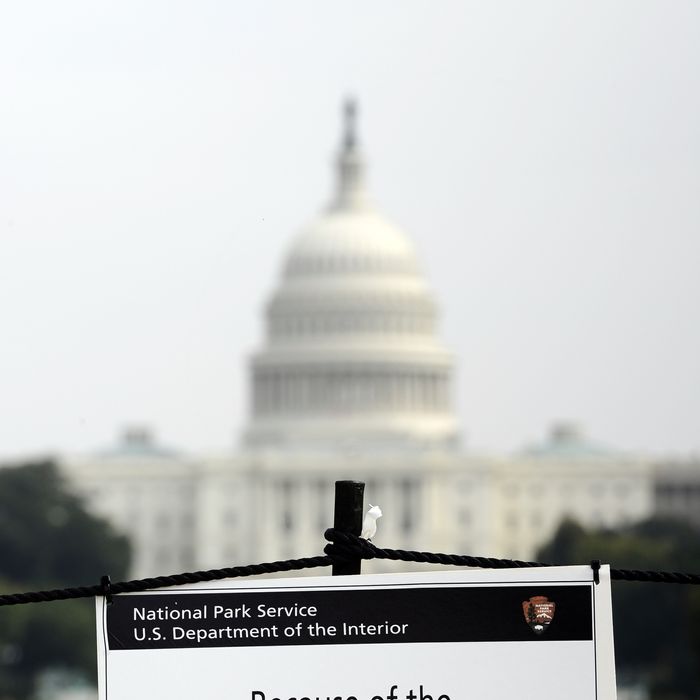 Photo: Jewel Samad/AFP/Getty Images
Fans of absurd congressional drama will have to hold on for a few more months, because it looks like the government will remain funded for the rest of the fiscal year. The federal government is set to run out of money Thursday at midnight, but congressional leaders have reached a deal on a $1 trillion spending package that narrowly averts a government shutdown — so narrowly, in fact, that they'll probably need to give themselves a short extension.
Regardless, it does seem pretty miraculous that they've reached a deal, considering that many in the GOP wanted to use the spending bill to retaliate against President Obama's unilateral immigration action. So, how'd they do it? By postponing the immigration showdown until 2015.
The "cromnibus" spending bill (don't ask) funds most of the government through September 2015, but only funds the Department of Homeland Security — which will carry out Obama's immigration order — through February. This allows congressional Republicans to hash out their response to the immigration move when they have control of both chambers.
More than half of the package currently under consideration goes to military spending, and as the White House requested, it also includes $5 billion to fight ISIS and $5.4 billion to combat Ebola. There are also some interesting policy provisions. The bill essentially nullifies the District of Columbia's vote to legalize marijuana by prohibiting funds from being used to tax and regulate the law. However, D.C. will be allowed to decriminalize pot. The school nutrition standards promoted by Michelle Obama survived, but schools have more flexibility in how they're implemented. Republicans successfully pushed to relax part of the financial regulations on banks set by the 2010 Dodd-Frank reforms, but Democrats are still expected to support the legislation.
Since negotiations over these and various other issues took longer than expected, congressional leaders did not have the bill ready until late on Tuesday. The legislation is set to be marked up by the House Rules Committee tomorrow, and the House will probably take a vote on Thursday. Since that would leave only hours for the Senate to approve the measure, the Hill reports both chambers are expected to pass a short-term spending measure to give the Senate a few more days to consider the larger package.
As the New York Times put it, "The rush Tuesday to post the legislation underscored the 113th Congress's dubious record as one of the least productive in modern history — governing by deadlines and cliffs of its own making, and struggling to pass even some of the most pro forma pieces of legislation." At least the 113th Congress will die doing what it loves.