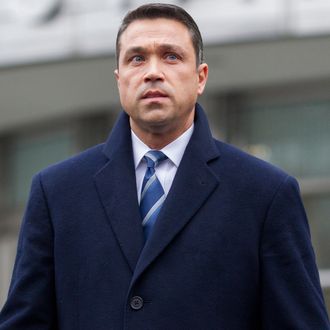 Photo: Michael Graae/Getty Images
As expected, Representative Michael Grimm's pledge to stay in office despite pleading guilty to felony tax fraud was undone by one phone call from House Speaker John Boehner. "After much thought and prayer, I have made the very difficult decision to step down from Congress effective January 5th, 2015," Grimm said in a statement. "This decision is made with a heavy heart, as I have enjoyed a very special relationship and closeness with my constituents, whom I care about deeply."
But don't worry too much about the Staten Island congressman. "The events which led to this day did not break my spirit, nor the will of the voters," Grimm continued. "However, I do not believe that I can continue to be 100 percent effective in the next Congress, and therefore, out of respect for the Office and the people I so proudly represent, it is time for me to start the next chapter of my life." While Grimm is facing up to three years in prison, it'll take more than that to break him in half like a boy.
It's up to Governor Andrew Cuomo to set a date for a special election to replace Grimm, and it looks like Staten Island will have another chance to send a controversial representative to Congress. According to the Observer, Daniel Donovan, the Staten Island district attorney who failed to secure an indictment in the Eric Garner case, appears to be the front-runner for the Republican nomination.
While Donovan, who's relatively popular in the borough, previously wouldn't comment on whether he wants the seat, he admitted on Tuesday that he's interested. "Last night and this morning, with the announcement that a vacancy will exist, my phone has been ringing off the hook," Donovan said in a statement. "I am deeply flattered by the enthusiastic expressions of support I have received over the last 12 hours, and I am very seriously considering the race. I will make an announcement after the due deliberation such an important decision deserves."
This post has been updated to include Donovan's statement.