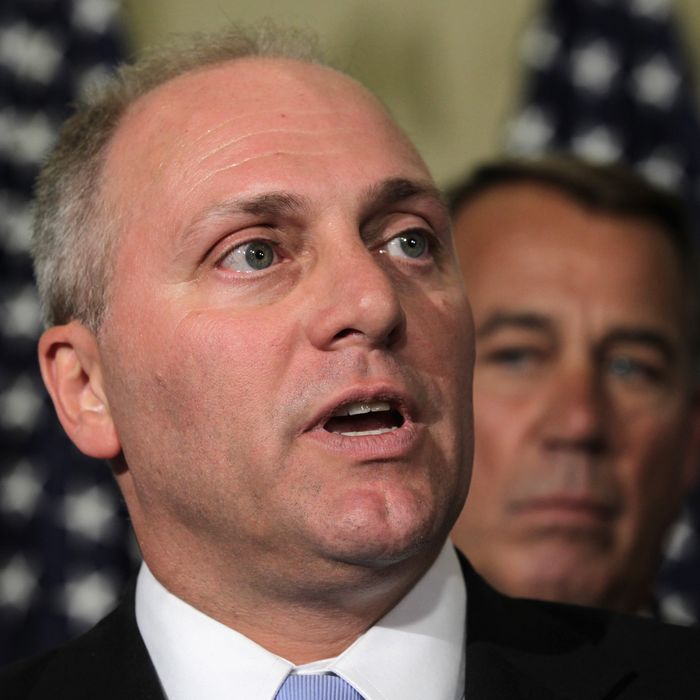 Photo: Alex Wong/2014 Getty Images
A high-ranking Republican leader in Congress is under fire after allegations that he addressed a white-supremacist organization in 2002 surfaced Sunday on a local Louisiana blog. Representatives for Steve Scalise, the House majority whip, have not definitively denied allegations that he spoke at the National/International EURO Workshop on Civil Rights, instead focusing on emphasizing that Scalise himself does not hold such beliefs.
"Throughout his career in public service, Mr. Scalise has spoken to hundreds of different groups with a broad range of viewpoints," spokeswoman Moira Smith told Politico Monday. "The hate-fueled ignorance and intolerance that group projects is in stark contradiction to what Mr. Scalise believes and practices as a father, a husband, and a devoted Catholic."
An aide also said that it is "highly likely" that Scalise spoke to the hate group, but the details are difficult to pin down because the event happened more than a decade ago. 
The majority whip is the third most powerful Republican in the lower chamber. In this elected position, Scalise works with majority leader Kevin McCarthy and Speaker John Boehner to craft the Republican agenda.
Allegations about Scalise's unsavory speech first appeared Sunday on a blog run by Lamar White, a Louisiana activist. White alleges that he found online postings saying Scalise was an honored guest at EURO's May 2002 conference, when Scalise was just a 36-year-old state representative. According to White (who cites the white-supremacist site forum postings), Scalise spoke about the Housing and Urban Development Fund in terms that appealed to the racist group.
EURO is considered a hate group by the Southern Poverty Law Center, which classifies it as "white nationalist":
Founded in 2000 under a different name by the former Klan leader and notorious neo-Nazi David Duke, the European-American Unity and Rights Organization (EURO) claims to fight for "White Civil Rights" for "European and Americans Wherever They May Live." Beyond hosting a website, whitecivilrights.com, and staging an occasional conference, EURO is a paper tiger, serving primarily as a vehicle to publicize Duke's writing and sell his books.
According to the Scalise aide, however, the congressman was willing to talk to anyone back in 2002 and had just one staff member. He "was running across the state speaking to anyone who would listen to him," the aide said.
Few of Scalise's congressional colleagues have commented on the scandal. But among those who have, the reaction was mixed: