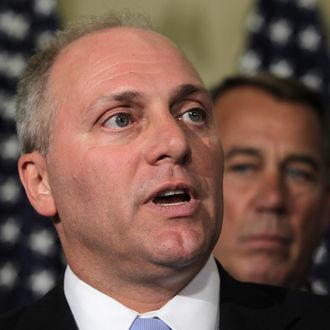 Photo: Alex Wong/2014 Getty Images
Representative Steve Scalise, the House majority whip and third-highest-ranking Republican member, has apologized for speaking to the EURO white-supremacist group during a Louisiana conference 12 years ago. News of Scalise's attendance at the conference broke this weekend on a local state blog.
"Twelve years ago, I spoke to many different Louisiana groups as a state representative, trying to build support for legislation that focused on cutting wasteful state spending, eliminating government corruption, and stopping tax hikes," Scalise said. "One of the many groups that I spoke to regarding this critical legislation was a group whose views I wholeheartedly condemn. It was a mistake I regret, and I emphatically oppose the divisive racial and religious views groups like these hold. I am very disappointed that anyone would try to infer otherwise for political gain."
Scalise's spokespeople said Monday that Scalise was, at that time, a lowly state representative with just one staffer. They also said that he was willing to speak to anyone who would listen for votes and support for his tax plan. 
Many fellow congresspeople spoke out in defense of Scalise since the scandal broke. Representative Steve King likened Scalise to Jesus, who "dined with sinners," and House Majority Leader Kevin McCarthy affirmed that Scalise "does not share the beliefs of that organization." Notably, House Speaker John Boehner stood by the third-ranking House Republican, referring to the incident as "an error in judgment." Even those across the aisle seem to believe this was a onetime lapse in judgement: Democratic leaders are not calling for Scalise to step down.