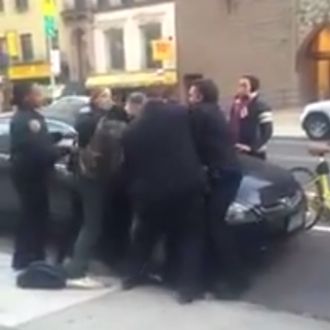 The NYPD officer who repeatedly punched a teen suspect has been taken off duty. In a YouTube video posted earlier this week, the cop — identified by the New York Daily News as the 7th Precinct's John McDevitt — can be seen running up to Denzel Funderburk and hitting him hard in the torso, even though the 16-year-old was pinned to a car by three other officers and appears to have already been handcuffed.
Here's NYPD chief Bill Bratton's statement on the incident: "An individual that we have identified as a plainclothes anti-crime officer runs up and appears to strike the individual with a closed fist twice on the side of the body. That officer has been suspended pending the investigation going forward."
Funderburk's violent arrest stems from the beating of a 20-year-old man who was left with a broken jaw. Funderburk and two 17-year-old friends were charged with the assault, but according to the New York Post, their charges were dropped before the McDevitt video was released. The Manhattan District Attorney's office declined to explain why the boys were released.