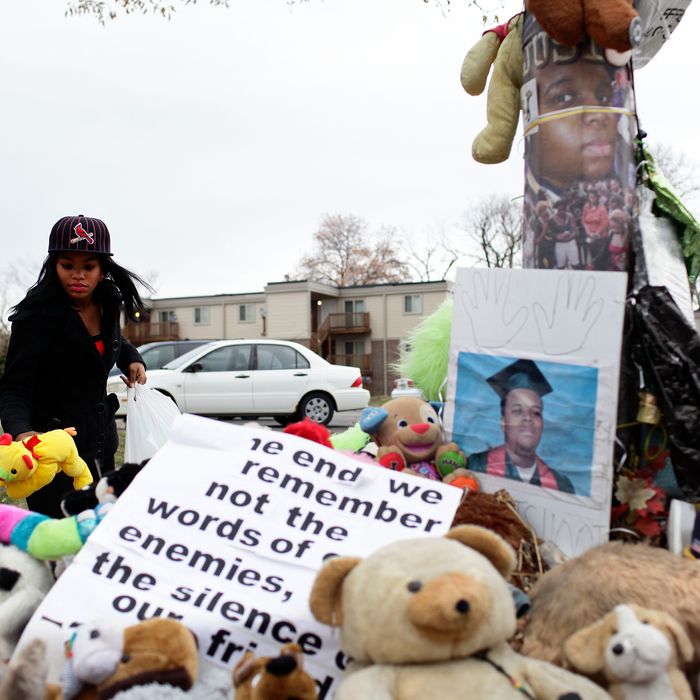 Photo: Joshua Lott/2014 Getty Images
It seems that someone decided to celebrate Christmas in Ferguson by destroying a makeshift memorial to Mike Brown. According to local reports, a car intentionally plowed over the collection of flowers, photographs, stuffed animals, candles, notes, and other mementos that has stood at the site of the 18-year-old's death since August.
Though members of the community quickly rebuilt the memorial, the media was curious as to whether law enforcement planned to investigate the incident. When contacted by the Washington Post on Friday, Ferguson Police Department spokesperson Tim Zoll had this to say: "I don't know that a crime has occurred. But a pile of trash in the middle of the street? The Washington Post is making a call over this?" Nice.
As the unsurprisingly negative response to his comments grew, Zoll called CBS affiliate KMOX News to claim that the Post had "misquoted and misunderstood him." But by Saturday night, the Ferguson authorities had released a statement saying, in part, "Upon being confronted with the results of the Ferguson Police Department's investigation regarding the remarks that were attributed to the Public Information Officer, the officer admitted to Department investigators that he did in fact make the remarks attributed to him, and that he misled his superiors when asked about the contents of the interview."
According to the statement, Zoll "has been placed on unpaid leave, effective immediately, while disciplinary proceedings begin." The police department might want to start by taking him off the public-relations beat.