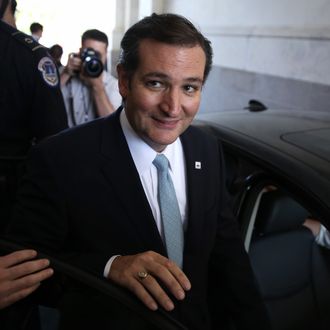 Such a nice boy.
Photo: Alex Wong/2013 Getty Images
Fresh off his latest failed stunt, Ted Cruz is gearing up his presidential campaign. National Review's Eliana Johnson has a fascinating account of Cruz's pitch for how nominating him would not backfire in the same terrible way everything else associated with Cruz has, but would instead lead the Republican Party to glorious triumph.
Cruz has plans to appeal to millennials ("on social media, Cruz is the most talked-about presidential candidate on the right") and women (advisers "cite his speeches about the influence of the important women in his life, his support for Democratic senator Kirsten Gillibrand's bill that would have removed sexual-assault cases from the military chain of command, and his attempts when he was a college student to confront the problem of date rape"). The most hopeful element of Cruz's 2016 coalition is his plan to win over the Jews:
He has already gone to great lengths to court Jews, making it clear that he wants their approval, acceptance, and financial support. He turned up, for example, at Commentary magazine's annual dinner in September 2013, the only potential 2016 candidate to do so. The senator also attended New York City's Israel Day concert and parade in June — and then raised $100,000 at Abigail's, a kosher restaurant in Manhattan. He gave an address last month to the Zionist Organization of America, preceded by a meeting with New York Daily News owner Mort Zuckerman and followed by meetings with Sheldon Adelson and the hedge-fund manager Michael Steinhardt, former chairman of the Democratic Leadership Council. Steinhardt hosted Cruz in his office around a table with some of the Jewish community's most influential political donors.
There is actually a staffer in Ted Cruz's campaign who recorded the fact that Cruz was the only 2016 hopeful to make an appearance at Commentary's annual dinner and is citing it as evidence of his ability to defeat Hillary Clinton. Okay.