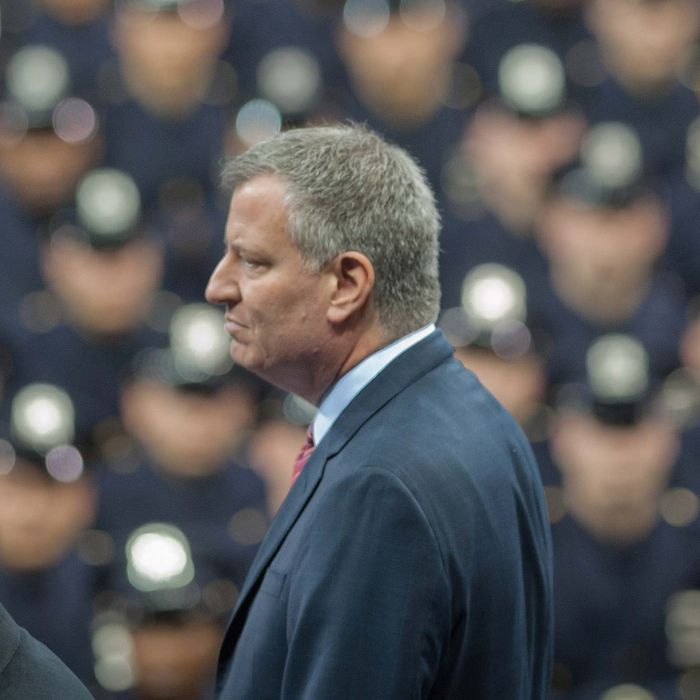 De Blasio faced police disapproval once again today.
Photo: Bryan Smith/ZUMA Wire/Corbis
No uniformed police officers turned their backs on Mayor Bill de Blasio today at Madison Square Garden, at the graduation ceremony for 884 police cadets. This is progress, for both the mayor and the NYPD, especially coming two days after the open display of disrespect outside the funeral of police officer Rafael Ramos. And it's a sign of an interesting shift in the public-relations battle between de Blasio and the police unions — if not in the substantive tensions between the mayor and the rank-and-file.
De Blasio did draw some static from the crowd filling the lower-level Garden seats. There was a smattering of boos as he stepped to the microphone; when the mayor told the newly sworn-in cops that they'd be "confronting problems they did not create," a man in the mezzanine shouted, "You did!" and provoked a short burst of applause. But given the recent hostilities — and the history of mayors being heckled at these events — it was more surprising that there weren't more outbursts. The applause for de Blasio, when it came, was mild, but temperatures were considerably lower than they've been in the past ten days.
Reducing the rhetorical volume is clearly a large part of the mayor's strategy. He hasn't answered questions from reporters in seven days, making only scripted remarks and allowing Bratton to take much of the spotlight. One of the things that's filling the void — and is surely welcomed by City Hall — are stories about whether the cops overplayed their hand at Saturday's funeral. Union leadership is clearly aware that it has started something that it can't control — many of the cops who turned their backs on de Blasio at the funeral appeared to be from out of town — and that could backfire and cost the cops sympathy.
Not that public opinion matters much to the police grievances underlying this rift, from stalled contract negotiations to de Blasio's imbalanced sympathies. Those frictions aren't going away anytime soon. But today at the Garden was a celebration, full of hope and awards and beaming relatives. Even Pat Lynch, the PBA president who blamed the mayor for last week's shootings, was all smiles: His younger son was part of the graduating class of cadets.
"I know times are tough right now," said Cynthia Puello, a newly minted police officer headed for the 13th Precinct, on the Upper East Side. "But she's always treated people with respect, and people embrace her." Pulleo was pointing to her mother, Sergeant Miguelina Puello. "She's been a good cop." Maybe it will be the kids in blue who ultimately improve the tone. More likely, after a spasm of ugliness, the mayor and the cops are just settling into a quieter chill.