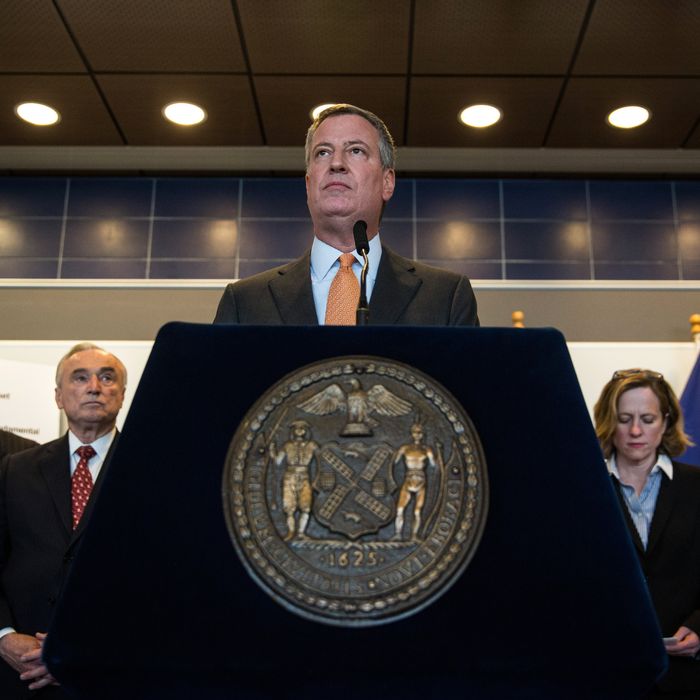 Photo: Andrew Burton/Getty Images
It was another powerful Brooklyn figure, Branch Rickey, who supposedly coined the phrase "Luck is the residue of design." But Bill de Blasio seems to be channeling the spirit of the old Dodgers general manager at City Hall lately.
The mayor and his senior staff, after a first few months in office riddled by unforced errors, have become determined to get ahead of looming crises. The ongoing fallout from the police-induced death of Eric Garner is a prime example. From July, when City Hall dispatched an aide to Staten Island even before Garner's death became public, to two weeks ago, when the administration began mapping out detailed responses to the possible decisions of a Staten Island grand jury, de Blasio's team has been thorough and nimble. All that preparation, particularly in coordination with police commissioner Bill Bratton, has played a large if unquantifiable role in helping the city get through days of protest without serious violence or disruption.
Yet de Blasio has caught a few breaks, too. The Garner decision came after a Missouri grand jury let police officer Darren Wilson walk. That chronology compounded public rage. But the disastrously incompetent reaction of Missouri law enforcement handed the NYPD — whose leadership is smarter and whose rank and file are more practiced at this kind of thing — a chance to look tolerant but firm. De Blasio has also, at least so far, been blessed with an admirably peaceful batch of protestors, who probably deserve the bulk of the credit. 
Other things outside his control, including the weather, have gone the mayor's way. But what's become increasingly clear as de Blasio has settled into his role is his instinct for playing offense, politically. Months ago, as the federal debate over immigration reform stalled and the likelihood of unilateral action by President Obama grew, de Blasio began organizing a coalition of like-minded Democratic mayors. On Monday, a dozen major-city pols will meet with de Blasio at Gracie Mansion to talk about how to implement Obama's decree and push for future progressive legislation. The timing is coincidental, but because it comes on the heels of de Blasio's successful approach to the Garner protests, the immigration "summit" should attract far more attention than it might have otherwise.
To be clear: I'm not suggesting that Garner's death is a good or a welcome thing for anyone. But de Blasio is rising, politically, from his handling of the ensuing controversy. Yesterday, for the first time, he was a guest on one of the big-network Sunday morning talk shows. George Stephanopoulos, of This Week on ABC, spent the bulk of the time discussing de Blasio's views on racism and police-community relations, and he pressed the mayor about the anger of cops who believe de Blasio has made them scapegoats.
But Stephanopoulos also gave de Blasio a platform to weigh in on the direction of the national Democratic Party. The mayor didn't hesitate to lay out a blueprint for 2016 candidates. "Talk about income inequality. Talk about the economic crisis that is the pervasive reality in American life right now," he said. '"We're going to be willing to take on those who are wealthy and ask them to do their fair share. We're going to be willing to take on corporations that are not being fair to their workers.'" 
How Hillary Clinton incorporates, or co-opts, that kind of populism is going to be one of the most intriguing story lines of the next two years. But right now de Blasio is riding his skills and his luck as hard as possible. The best politicians aren't simply well prepared. They recognize the moment and seize opportunities.