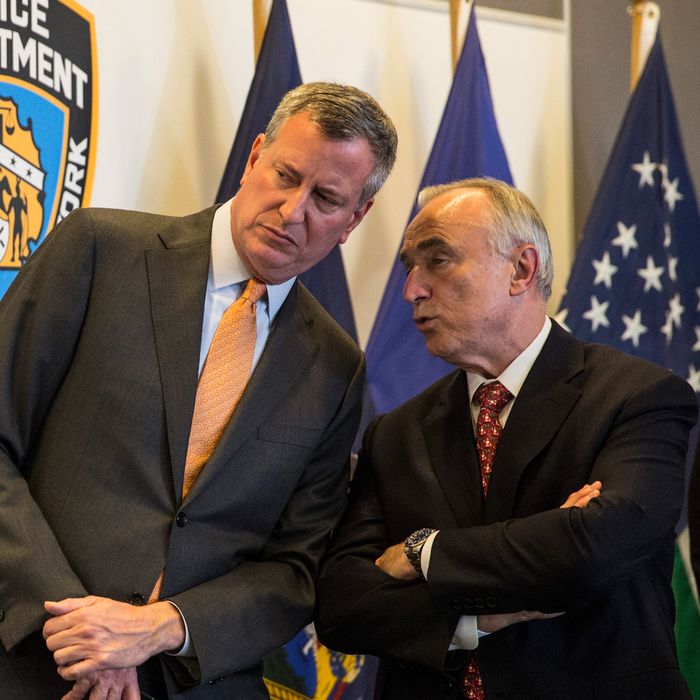 Photo: Andrew Burton/2014 Getty Images
Mayor Bill de Blasio spoke very slowly and for a very long time this afternoon and said very little that was overtly new or newsworthy. The ostensible subject was his plans for retraining the entire NYPD. But de Blasio was also intent on restating his respect for the city's cops.
For the second day in a row the mayor traveled out to the far reaches of northern Queens, in the shadows of the Whitestone Bridge, to hold a press conference at the new police academy. This appearance, though, came almost exactly 24 hours after news broke that a Staten Island grand jury had voted not to indict Officer Daniel Pantaleo in the chokehold death of Eric Garner.
Last night the mayor spoke movingly of his sympathies for the Garner family and of how he and his wife, Chirlane McCray, had taught their own brown-skinned son to be cautious around cops. The mayor's immediate sympathies were in the right place. But he knows that audiences beyond his natural political base are also listening carefully and that they are important to his political and policy goals.
Wednesday's protests were, by and large, peaceful — and, to the pleasant surprise of city officials, smaller than expected. This afternoon the NYPD's chief of patrol, Jimmy O'Neill, said the police strategy for tonight was basically the same, to allow plenty of room for expressions of outrage that don't turn destructive.
Thursday's crowds are bigger. Maybe they'll turn out to be just as well behaved. If free-floating disruptions of traffic and public space continue, though, it could put pressure on de Blasio to make a delicate decision about where and when to draw the line. There's a fine political line between being seen as wisely tolerant and being seen as indulging disorder.
More important, in the long run, is that de Blasio's chances of reforming the NYPD depend on it keeping crime low — and the mayor realizes that right now the department is under a great deal of strain. Most of the rank and file don't share the bitterness of Patrolmen's Benevolent Association head Pat Lynch, who today accused de Blasio of throwing cops "under the bus" in his response to the Garner case. But many of those same cops are dealing with angry protestors in the street while feeling whipsawed by the political change at City Hall.
The mayor did take pains Wednesday, in his Staten Island church speech, to praise NYPD Commissioner Bill Bratton. Today he made sure to more directly compliment the cops, and he claimed that the imminent retraining wasn't a punishment: "This is a sign of respect toward the profession of policing." He'll need to keep repeating that message as the string of tense days continues. Friday night brings the funeral, with Reverend Al Sharpton in the pulpit, of Akai Gurley, who was shot and killed by a Brooklyn housing cop.