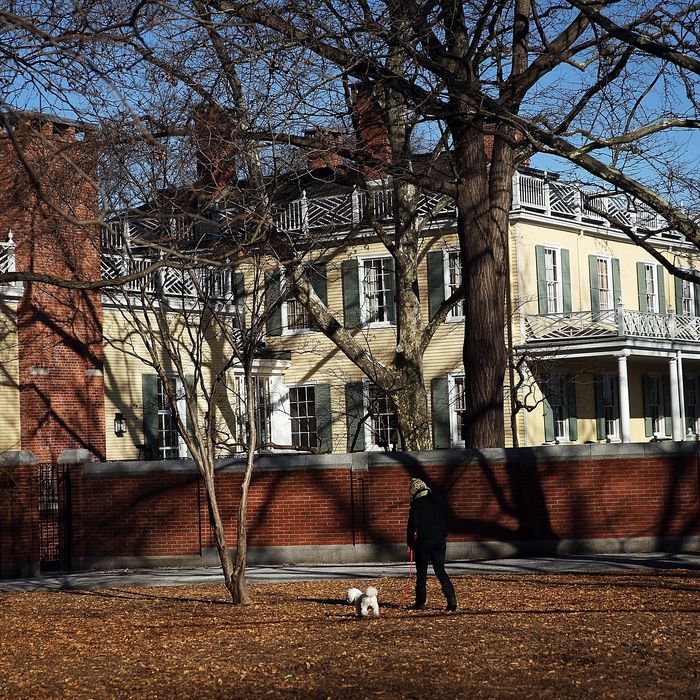 The fence at Gracie Mansion, before Emperor de Blasio moved in.
Photo: Spencer Platt/2013 Getty Images
Mayor de Blasio may say he loves New York and its inhabitants, but in a stunningly hypocritical move, he's erected a taller fence around Gracie Mansion to keep us plebs from peering into his home. Photos published by the predictibly incensed New York Post show that a garish white "privacy fence" now towers over the brick wall and wrought-iron fence that circle the property. "So much for being mayor of the people. That brick fence was good enough for Rudy Giuliani and his family, and for Ed Koch and all the mayors before him," a law-enforcement source tells the paper. "They didn't need a taller fence. That's the same house where everybody else lived for years."
A spokesman for the Parks Department claims the fence was put up "due to security concerns," but sources say the mayor was just sick of his constituents attempting to speak to him. "He likes to sit out on the porch and he felt like people were getting too close to him. Some people would see him and yell, 'Hi, Mr. Mayor!'" a source said. "They weren't being derogatory or nasty or anything."
Joni Dropkin, who lives near the mansion, tells the Post that something feels "so shady" about the fence. "I used to see Bloomberg here in the summer back when he was mayor. You could almost see right in. And that's what I liked a lot about him; very transparent," she said. Sure, there was a security gate outside the Bermuda estate where Mayor Bloomberg spent most of his weekends, but New Yorkers were free to rent the neighboring estate and gaze upon his private golf course.