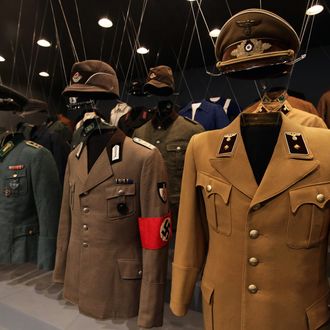 Photo: Andreas Rentz/2010 Getty Images
The two parties in Washington have found something they agree on: Nazi war criminals should not be collecting Social Security. An Associated Press investigation in October found that many Nazis who immigrated to the United States after World War II were allowed to keep their Social Security benefits if they left voluntarily rather than undergoing a lengthy deportation process. Over the years, they collected millions in benefits.
Amazingly, the report spurred Congress into action. On Tuesday the House unanimously passed the No Social Security for Nazis Act, which aims to close a loophole that allowed four alleged Nazis living in Europe to continue receiving payments from the U.S. government. An identical bill has been introduced in the Senate, and it should be on the president's desk by the end of the year.
Democratic representative Carolyn Maloney of New York suggests we shouldn't be impressed. "If we can't agree on this, my goodness what can we agree on?" she told CNN. It's a fair point, but Congress has done a good job of lowering expectations.