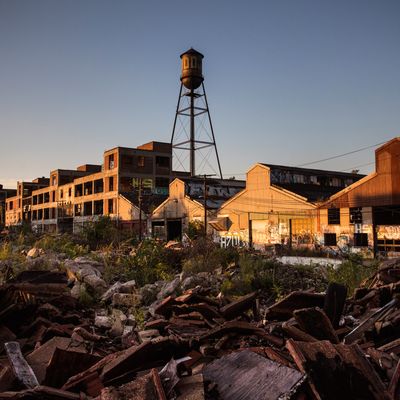 Ruins at the abandoned Packard Automotive Plant are seen on September 4, 2013 in Detroit, Michigan.
Photo: Andrew Burton/Getty Images
The worst of Detroit's financial crisis is over. What was the nation's largest municipal bankruptcy ever is slated to end at midnight Thursday, allowing the city to move forward with a restructuring and reinvestment plan that had been approved in November.
The transition out of bankruptcy also ends the tenure of emergency manager Kevyn Orr, the Washington, D.C., attorney who stepped into the role in March 2013. Orr sent a letter to Michigan governor Rick Snyder recommending that Detroit's approximately 17-month bankruptcy end, writing that the financial emergency had been "rectified." He will resign his post when the bankruptcy exit is complete, effectively passing power back to Detroit's mayor Mike Duggan and City Council.
Detroit's Mayor Duggan called this "a good day for the city," saying it was necessary so "we can start to put the conversation of bankruptcy and emergency managers behind us and go back to the very challenging job of making the city of Detroit run." City leaders will still be subject to oversight through the state-run Financial Review Commission, which will oversee Detroit's spending and borrowing decisions for at least 10 years.
This change in status doesn't mean Detroit is free of its financial woes, but it can now start implementing a reorganization plan that will rid the city of $7 billion in debt obligations, while freeing up $1.7 billion for reinvestment back into the city for services such as the police, fire, and blight removal, says the Detroit Free Press. This plan, which was key to Detroit's bankruptcy exit, was propelled forward by a grand bargain, which protected the Detroit Institute of Art's collections and instead called on its donors, including automakers' foundations, to pledge money so the city could lessen pension cuts.
This "roadmap," as Mayor Duggan called it, may shift, but for now it's the framework to revive the struggling city.