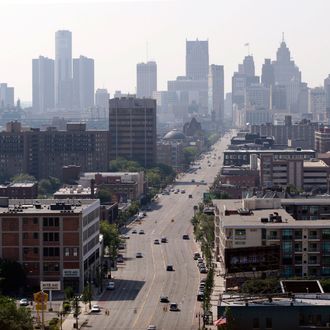 Photo: Jeff Kowalsky/Bloomberg via Getty Images
Detroit's public power grid experienced a massive outage on Tuesday morning, leaving city administration buildings, schools, hospitals, and jails without electricity and forcing them to resort to backup generators.
"The city's public lighting grid suffered a major cable failure that has caused the entire grid to lose power at approximately 10:30 this morning," read a statement from the Detroit Press Office, published by the Detroit News. "The outage is affecting all customers on the PLD grid. We have isolated the issue and are working to restore power as soon as possible."
A DTE Energy Co. spokesman also told the Detroit News that the entire Detroit Public Lighting system is down, which is affecting about 100 buildings —  "places like The Joe, Frank Murphy Hall of Justice, fire stations, schools."
"It's too early yet to determine what has caused the shutdown," he added.
Here's hoping they get the power back on before nightfall.