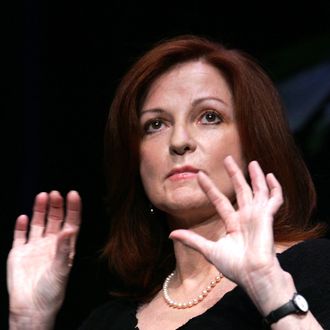 Photo: Frazer Harrison/Getty Images
New York Times columnist Maureen Dowd and Sony Pictures co-chairman Amy Pascal are like, bestttt friendsssss. "Your [sic] my favorite person," Pascal wrote in an email to Dowd, leaked during the Sony hack. "you're mine! you're amazing," responded Dowd. It'd all be super sweet and cute, except the emails were exchanged after Dowd wrote a glowing column about Pascal's work at Sony that she shared with Pascal's husband, former Times reporter Bernard Weinraub, before publication.
BuzzFeed News reports that when Pascal expressed concern that she didn't want to talk to Dowd if she was going to be slammed, Dowd assured her that "I will make sure you look great" and even shared an advance copy of the story with Pascal's husband so she could make sure it was okay.
"You cant tell single person that I'm seeing the column before its printed [sic]," Weinraub wrote in an email to his wife. "its not done…no p.r. people or Lynton or anyone should know [sic]."
This all happened in March, way before MoDo's pot-brownie incident, so it's not like we even have a drug-addled brain to blame for this blunder.