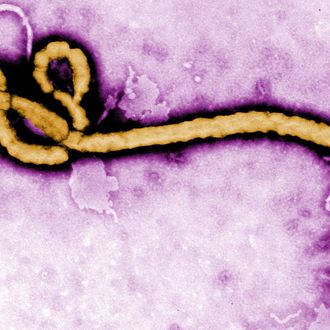 A health-care worker in Glasgow, Scotland, has been diagnosed with Ebola. The Guardian reports that the woman had just traveled from Sierra Leone via a connection in Casablanca to London's Heathrow Airport on a Moroccan airline, and arrived in Scotland Sunday night on a British Airways flight. She was admitted to a Glasgow hospital early Monday, and remains in isolation there, though she's expected to be transferred to a special unit in London for treatment.
Officials stressed that the risk to the public was "negligible," and it is believed that the infected woman only came into direct contact with one other person since her arrival in Glasgow. Still, as a precaution authorities are tracing everyone who traveled on the flights, and have set up a hotline for the passengers.
As for the Ebola patient, she is reportedly in stable condition and a spokesperson for the National Health Service said her current state "should translate into a good prognosis."
This is a developing story and will be updated as more information becomes available.