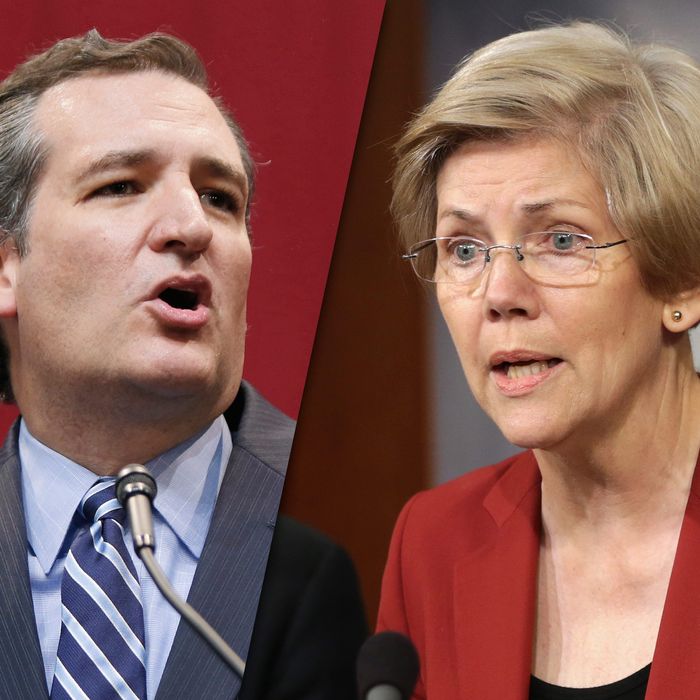 Photo: Erich Schlegel/Getty Images; Alex Wong/Getty Images
At first glance, there are a few obvious signs that Elizabeth Warren and Ted Cruz are not the same person. For starters, she is a woman, and he is a man. Also, their politics are almost diametrically opposed. And despite questions about her heritage, as far as we know Elizabeth Warren is and always has been 100 percent American. So why were there a flurry of articles written over the weekend debating whether or not the senators are one and the same? Because both led their party's opposition to the $1.1 trillion spending bill backed by the White House, once again bringing the government uncomfortably close to a government shutdown.
A little over a year after Cruz helped instigate an actual government shutdown over Obamacare, he was at it again this weekend, making a last-minute procedural maneuver to force a vote on President Obama's immigration order. As The Atlantic explains, while Harry Reid and Mitch McConnell had worked out a deal that would have allowed them to hold a vote on the "Cromnibus" on Monday, thanks to Cruz's maneuvering, the Senate held a rare Saturday session. That allowed Democrats to advance two dozen of Obama's executive-branch nominees, and Cruz's immigration vote failed anyway, 72–22.
Meanwhile, Warren led a similar effort to block the spending bill over a provision that would have weakened a part of the financial regulations on banks included in the 2010 Dodd-Frank law. Warren said the measure was a giveaway to Wall Street "written by lobbyists for Citigroup." On Friday night she railed against the megabank from the Senate floor. "Enough is enough with Wall Street insiders getting key position after key position and the kind of cronyism we have seen in the executive branch," she said. "Enough is enough with Citigroup passing 11th-hour deregulatory provisions that nobody takes ownership over but that everybody comes to regret. Enough is enough."
She also rallied several of her Democratic colleagues in the Senate — including Dick Durbin, Joe Manchin, and Al Franken — to oppose Obama's nomination of Antonio Weiss to the Treasury Department because his current employer, Lazard Ltd., was involved in the sort of tax-evading corporate tax inversion deals that the Obama administration wants to end.
While the spending bill eventually passed, Warren and Cruz's moves made it more difficult to get the job done — and sparked claims that she has become the "Ted Cruz of the left."
There are a few points that go against this theory. First, Warren's move was at least partially supported by her party's leadership, in the form of House Minority Leader Nancy Pelosi. Also, she wasn't willing to go as far as Cruz to make her point, as evidenced by the fact that the government is still open.
Another major difference: While Warren won the admiration of many in her party, Republicans publicly went after Ted Cruz. "You should have an end goal in sight if you're going to do these types of things and I don't see an end goal other than irritating a lot of people," Senator Orrin Hatch said of his Republican colleague. Meanwhile, Democratic senator Chuck Schumer defended Warren, saying, "I think the soul of the Democratic Party is economic issues, and on economic issues, we are united … and Elizabeth Warren is constructive. She's not like Ted Cruz, 'Shut down the government' or 'Don't fund things if I don't get my way.'"
Plus, as noted by Fox News's Howard Kurtz, the media reactions were very different. Warren was described as a "winner" who's "catching fire" in multiple headlines. The buzz even prompted a new push from progressive groups to draft her into the 2016 presidential race. In an NPR interview published Monday morning, Warren had to deny once again that she's running. (Though she left the door ajar, repeatedly saying, "I am not running for president" — present tense.)
Warren isn't exactly on the verge of reading Green Eggs and Ham on the Senate floor for no real reason, but the media's fawning response to her maneuvering angered Republicans, and they probably won't let her forget the comparison. "Extremism comes in all sizes, colors and sexes," Republican senator Lindsey Graham told Newsmax. "The double standard by which the media views the actions of a Democrat versus a Republican is still astonishing to me."