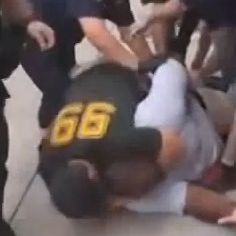 On Wednesday afternoon, a Staten Island grand jury decided that NYPD officer Daniel Pantaleo will not face any criminal charges in the death of Eric Garner. Pantaleo is the cop who was filmed placing Garner in an apparent (and illegal) chokehold this summer, just before the 43-year-old collapsed on the sidewalk, crying, "I can't breathe! I can't breathe!" as more officers piled on top of him. The city medical examiner's office ruled Garner's death a homicide in August, blaming it primarily on "compression of his neck (chokehold), compression of his chest and prone positioning during physical restraint by police."
2:00 a.m.: Following several arrests, police pushed protesters off the Brooklyn Bridge, but demonstrations continued elsewhere in the city.

12:27 p.m.: Protesters have shut down the Brooklyn Bridge.

10:42 p.m.: The protest is going strong in Times Square:

10:03 p.m.: The big standoff on 49th and 6th continues. There are a few impassioned voices screaming "justice for murder" and demonstrators are pushing the barricade forward slightly.

– Eric Barbera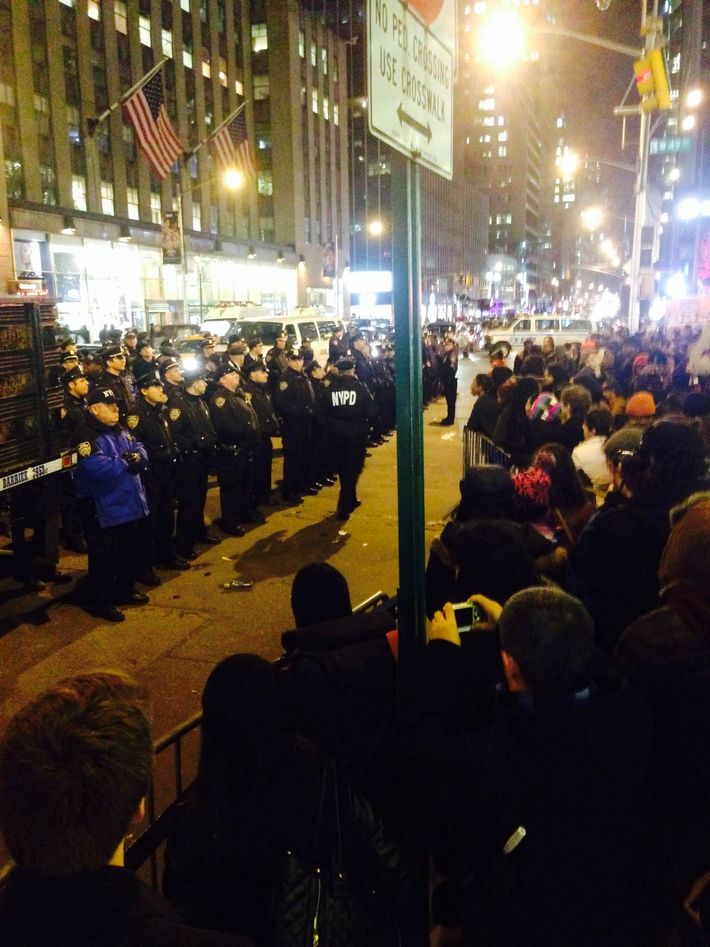 9:50 p.m.: A protester who asked to remain anonymous, but said she works in PR, told New York's Samuel Anderson why she isn't chanting some of the phrases used by others demonstrators tonight.

"You will not hear me saying 'I cannot breathe' because God bless brother Garner, those were his last words. Those are derogatory words because unfortunately he transitioned into death after he said that," she explained. "You will hear me say 'black lives matter' because that is an affirmative of how I feel about black men. I am not gonna say 'dont shoot' because I am not asking for anybody's permission for me to live."

9:39 p.m.: At least 16 protesters have been arrested so far. Mayor de Blasio is set to appear on Hot 97 tomorrow at 8:15 a.m. to address the Eric Garner situation.

9:32 p.m.: The West Side Highway is still shut down. Some drivers stuck in traffic honked or put their hands up to show their support.

9:21 p.m.: The New York papers are making their stance clear. In a scathing editorial, the New York Times called for a civil rights investigation by the Justice Department. "What is clear is this was vicious policing and an innocent man is dead," says the paper. "Another conclusion is also obvious. Officer Pantaleo was stripped of his gun and badge; he needs to be stripped of his job. He used forbidden tactics to brutalize a citizen who was not acting belligerently, posed no risk of flight, brandished no weapon and was heavily outnumbered."
And here's tomorrow's Daily News cover:
9:12 p.m.: Protests are also taking place in D.C. and Oakland.
9:08 p.m.: Things are also getting tense at Rockefeller Center. There was only a brief mention of the nearby protests during NBC's broadcast of the tree lighting.
9:01 p.m.: The NYPD is making arrests on the West Side Highway.
8:46 p.m.: Hundreds of protesters are blocking the West Side Highway:
8:26 p.m.: Traffic cops chilling (or thawing) in a pret a manger right by the protest: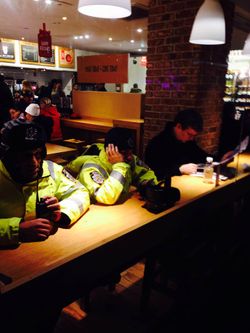 – Eric Barbera
8:20 p.m.: People about 50 feet away from the demonstration stopped to post for touristy photos with groups of police in the background. The protest has gone a bit quiet, with a few isolated "I can't breathe" chants remaining.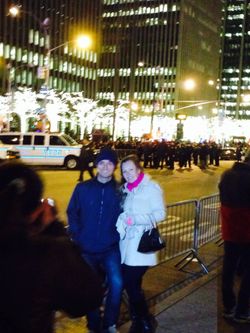 – Eric Barbera
8:11 p.m.: After sitting in the street to block traffic in Columbus Circle, groups of protesters headed to Central Park West and the West Side Highway.
7:44 p.m.: From the guy in charge of the NYPD's social media outreach program: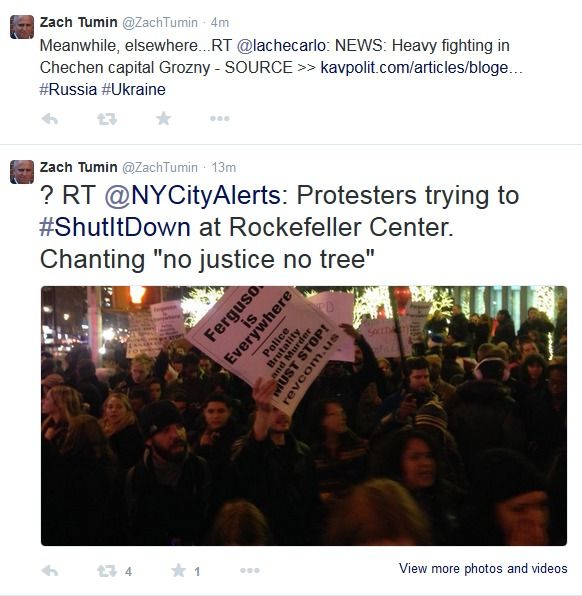 7:25 p.m.: At 47th and 6th, barricaded protesters are throwing things at the police. Chants include, "NYPD, KKK/How many kids did you kill today?" and "Who do you serve? Who do you protect?" Traffic has stopped, and a marooned bus is surrounded by cops in riot gear. Through all of this, the area around the tree has remained noticeably empty due to the streets closing. People are shouting, "Fuck your tree!" at the arriving Department of Correction buses.
Meanwhile, an undaunted delivery guy is trying to find a way through the demonstration: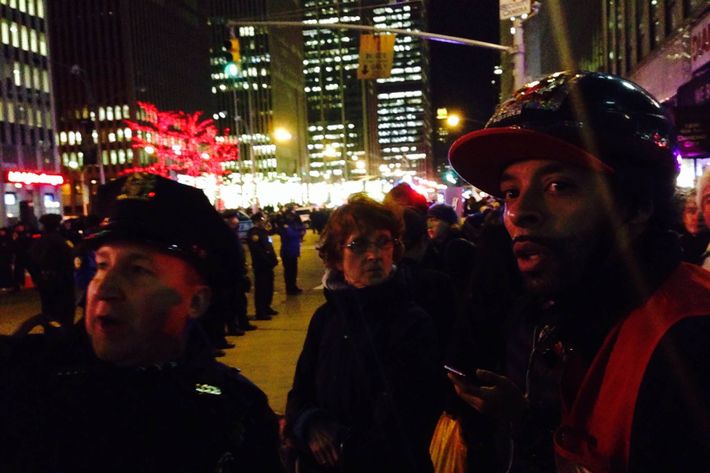 —Eric Barbera

7:03 p.m.: More from Rockefeller Center:
6:52 p.m.: Here's Obama's full statement:
6:44 p.m.: They made it to the tree lighting:
6:29 p.m.: Here's what De Blasio said at the press conference:
6:22 p.m.: In an interview on Al Sharpton's MSNBC show, Garner's widow said that Pantaleo's apology "means absolutely nothing." "Because my son is left without his father, my grandkids are left without their grandfather, and I am left without my husband," she explained.
6:09 p.m.: More from the protests:
5:49 p.m.: De Blasio just said that the federal government will launch an investigation into Garner's death.
5:45 p.m.: Governor Cuomo has released a statement:
5:39 p.m.:
5:28 p.m.: Here's Public Advocate Tish James's statement: "Like millions of New Yorkers, I am saddened by the grand jury's decision not to indict in the Eric Garner case. Video footage of the incident clearly shows the banned chokehold that resulted in Mr. Garner's death and the fact that there will be no public trial is shocking and unconscionable. We must eliminate the inherent conflict of interest when a district attorney seeks to indict members of the police department. To that end, I am calling on the governor and attorney general to create a special prosecutor in all cases involving police misconduct. Additionally, I will be requesting that the proceedings from this grand jury be made public."
5:15 p.m.: President Obama briefly addressed the decision during an unrelated press conference: "When anybody in this country is not being treated equally under the law, that is a problem, and it's my job as president to help solve it," he said.
4:59 p.m.: Protests around New York City have begun:
4:40 p.m.: Here are some reactions from the New York City Council:
And here are New York's senators and some of its congresspeople:
4:22 p.m.: Right now seems like a good time to note that while Daniel Pantaleo won't face charges for choking Garner, a Staten Island grand jury did manage to indcit the man who filmed him doing so.
4:15 p.m.: De Blasio has released a statement:
4:08 p.m.: Daily News court reporter Oren Yaniv on some factors that might have affected the decision:
Again, the medical examiner's office determined that Garner died primarily as a result of the compression of his neck and chest, with his weight (over 300 pounds), asthma, and heart disease listed as contributing factors.
4:03 p.m.: As Bratton promised earlier this week, the NYPD appears to be ready for protests.
And, just as Carlson feared, it does seem that protesters are planning on showing up at Rockefeller Center tonight.
3:52 p.m.: Staten Island District Attorney Daniel Donovan says he can't discuss the details of how the grand jury reached its decision.
3:45 p.m.: Fox News's Gretchen Carlson is worried that demonstrations over the decision might mess up the aforementioned tree lighting ceremony. "There have been these protests in Times Square, right outside of our building here, for the last week or so, since the non-indictment came down in the Ferguson situation," she said. "So I certainly hope nothing's going to happen in New York City today, and we've got the tree lighting ceremony today."
3:39 p.m.: Garner's father, Ben, just spoke to the Staten Island Advance near the spot where his son died. "There is no justice system. Whites can kill blacks, but not the other way around," he said. "Who can control the Police Department? We had a damn video tape." Also: "I can't control what anyone does, but I want peaceful protests."
3:32 p.m.: Mayor de Blasio has canceled his appearance at tonight's Rockefeller Center Chirstmas tree lighting ceremony. His office says he'll be doing a press conference on Staten Island at 4:45 p.m. Meanwhile, NY1 says that NYPD chief Bill Bratton has canceled the interview he had scheduled with them tonight: "No doubt he's busy preparing… for any protests."
3:29 p.m.: Garner's widow, Esaw, spoke to the NewYork Daily News right after the announcement. "Oh my God, are you serious? I'm very disappointed.You can see in the video that he (the cop) was dead wrong!" she said. "The grand jury kept interviewing witnesses but you didn't need witnesses. "You can be a witness for yourself. Oh my God, this shit is crazy."
3:15 p.m.: Pantaleo has released a statement: "I became a police officer to help people and to protect those who can't protect themselves," he said. "It is never my intention to harm anyone and I feel very bad about the death of Mr. Garner. My family and I include him and his family in our prayers and I hope that they will accept my personal condolences for their loss."
2:50 p.m.:
Meanwhile:
2:30 p.m.: "The family is as astounded and astonished as I am," said the Garner family's attorney, Jonathan Moore. "But they're strong people. They're resilient people." City Council Speaker Melissa Mark-Viverito called the decision "a terribly disappointing outcome." "It is not reflective of the events that led to Garner's death," she added.
This post has been updated throughout.