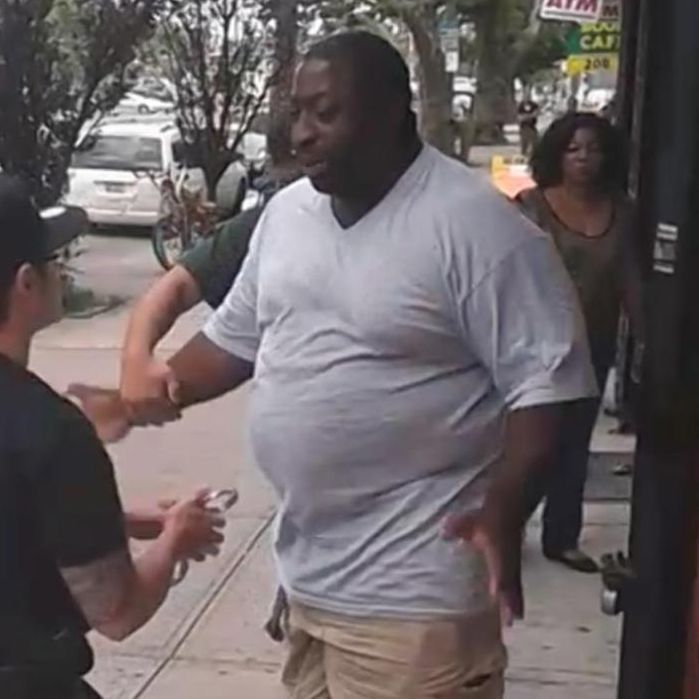 The announcement of whether a police officer will be indicted in Eric Garner's death is expected very shortly. For two months, a Staten Island grand jury has been working to decide if there will be criminal charges for the NYPD's Daniel Pantaleo, who was filmed putting Garner in an apparent chokehold immediately before the 43-year-old collapsed and died. According to multiple reports, deliberations began this week, and the panel could vote on the case as early as today.
Pantaleo probably won't be charged with murder, since there doesn't seem to be much evidence that he intended to kill Garner. But the grand jury is expected to consider lesser charges, such as manslaughter, criminally negligent homicide, and reckless endangerment. Pantaleo's lawyer, Stuart London, told reporters that the 23-person grand jury "listened attentively" and asked around 20 questions when the cop testified for two hours two weeks ago. For those keeping track: NBC New York reports that, "Of the 23 members of the Garner grand jury, 14 are white, nine are non-white and at least five are black."
Meanwhile, the NYPD is preparing for the protests that will almost certainly follow the Garner announcement. In the last two weeks, New York City demonstrators were (mostly) allowed to block traffic as they protested the decision not to indict Darren Wilson in the death of Mike Brown. During a press conference, NYPD Chief of Department James O' Neill indicated that that won't be happening again. "If we ask you to get out of the street, you should probably get out of the street," he said. Police "sources" told CBS 2 that police response won't be "heavy-handed" unless people become violent or start destroying property.