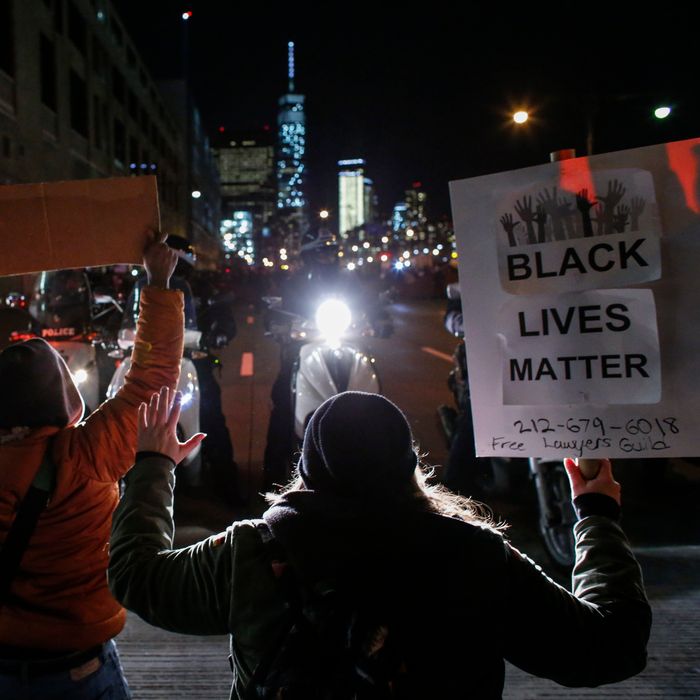 Photo: Kena Betancur/2014 Getty Images
For the second night in a row, people across the country took to the streets to protest a grand jury's decision not to indict NYPD Officer Daniel Pantaleo in the chokehold death of Eric Garner. Major demonstrations took place in Boston, Chicago, Pittsburgh, and Washington. Of course, the largest was in New York, where thousands of demonstrators spent the night roaming through the city. They blocked rush-hour traffic, stopped to hold "die-ins" at various landmarks, and shut down the Brooklyn Bridge. The NYPD arrested 223 people, primarily for disorderly conduct and refusal to clear the streets. Here's a look at Thursday's demonstrations.
NEW YORK
The protest started in Lower Manhattan's Foley Square, with the crowd there eventually growing to about 10,000, according to CBS New York. From there, protesters split, with one contingent marching over the Brooklyn Bridge. Some carried coffin replicas featuring the names of people killed by NYPD officers.
Others headed to the West Side Highway, which they managed to shut down again. The highway was reopened by 9 p.m.
By 10 p.m., protesters were heading uptown, with some lying down in Herald Square and others moving toward Times Square. They also gathered at the Staten Island Ferry terminal, Union Square, the Lincoln and Holland tunnels, and Brooklyn's Barclays Center.
While the crowd was mostly peaceful, there were some skirmishes with police and at least one report of protesters being pepper-sprayed. There were dozens of arrests, but police said the exact figures will not be available until Friday morning.
WASHINGTON, D.C.
The evening started with a crowd of about 100 who gathered outside the Department of Justice. The protest grew as they marched to Pennsylvania Avenue to stage a die-in one block from the White House, NBC Washington reports.
Protesters later blocked the 14th Street Bridge for about 45 minutes, then moved on, making stops at the Third Street Tunnel underpass and Union Square.
Another group of about 2,000 protesters gathered outside Metropolitan Police Headquarters. Demonstrators were kept away from the National Christmas Tree lighting attended by the First Family.
CHICAGO
The Chicago Tribune reports that the protest started with people marching from the Loop to 18th Street. Later in the night they headed north on Michigan Avenue and entered Lake Shore Drive, blocking traffic for about 15 minutes. All lanes were reopened by 9 p.m.
At least two people were arrested before the protesters disbanded around midnight. There are plans for another protest on Friday afternoon.
BOSTON
Echoing Wednesday night's showdown near Rockefeller Center, protesters gathered outside barricades during Thursday night's tree-lighting ceremony on Boston Common. Officials addressing the holiday celebration had to shout over protesters chanting, "Hands up! Don't shoot."
Throughout the night marchers blocked traffic and staged die-ins at various locations throughout the city. According to the Boston Globe, at one point about 200 protesters stopped on a highway off-ramp, briefly shutting down Interstate 90. The MBTA was also forced to suspend service on parts of Boston's subway system. By the end of the night, at least ten people had been arrested.
This post has been updated throughout.